New Restaurant To Donate Profits to San Diego Schools
Sunday, March 4, 2018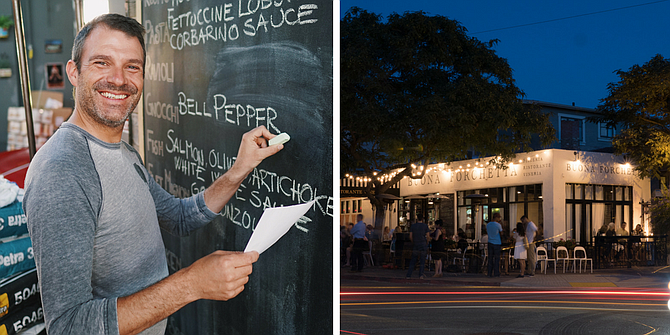 The owner of Buona Forchetta restaurants in South Park and Liberty Station plans to open a second South Park restaurant that will operate as a nonprofit with proceeds going to San Diego schools.
Matteo Cattaneo said he has leased space for the new restaurant at 3015 Juniper St. that was formally Rebecca's Coffee House.
Earnings from the restaurant will go to buy supplies and support arts programs and extracurricular activities at several nearby schools, including Mckinley Elementary School, Albert Einstein Charter Academy and Golden Hill Elementary School.
Cattaneo said he also would set aside space in the restaurant for classes and for children to learn cooking techniques.
"Life is about opportunity, and it's important to me and the whole Buona Forchetta family to give our kids an opportunity to discover for themselves a passion that can fuel their creativity," Cattaneo said. "South Park has given Buona Forchetta the best home we could have asked for, and this is our chance to give back to the community and city that has given so much to us."
The new South Park restaurant is tentatively scheduled to open in summer 2018.
Cattaneo opened the first Buona Forchetta restaurant at 3001 Beach St. in 2013.
He since announced plans to open a Buona Forchetta in a former car dealership in Coronado and plans to open a Buona Forchetta in Encinitas.
Ruland Design Group is working on the new locations with Cattaneo.
Tony Franco and Cody Wippel of the Franco Realty Group represented the owner of the building, Olivette & Donald McPherson Trust.