Green Flash Brewing Co. Opens New Location in Nebraska
Thursday, June 28, 2018
San Diego-based Green Flash Brewing Co. has opened its first full-scale restaurant in Lincoln, Nebraska, next to the University of Nebraska campus.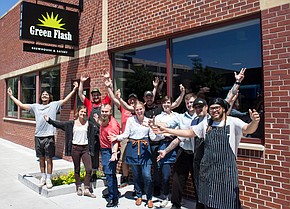 "We've been graciously welcomed here in Lincoln and already feel at home," said Dave Adams, vice president of hospitality for Green Flash.

The Green Flash Brewhouse & Eatery will serve Green Flash and Alpine beer, as well as a full menu that will include vegetarian options. The restaurant currently has 25 employees.
Green Flash Brewery was founded in 2002 in San Diego. It produces a lineup of specialty craft beers and distributes them throughout California, Arizona, Colorado, Hawaii, Nevada, Texas, Utah and Nebraska. In 2014, Green Flash acquired Alpine Beer Company.