PRODUCTION: HOME FAN LAUNCH WILL PROVIDE ANOTHER REVENUE STREAM
Co.'s Lights, Fans Have Growing Impact in International Markets
Thursday, June 28, 2018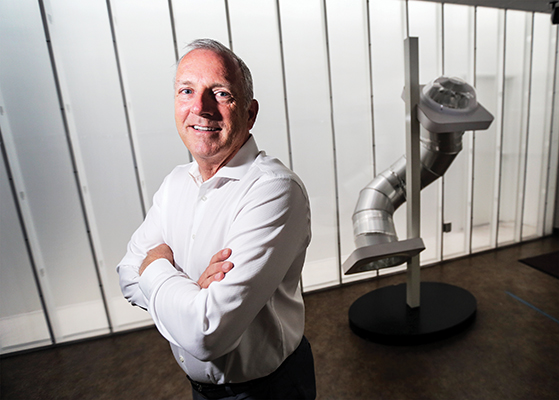 SOLATUBE INTERNATIONAL INC.
Founders: David Rillie, John Hanley and Graham Dickson
President: Robert Westfall Jr.
No. of Employees: 140
Year Founded: 1991
Revenue: Nearly $50 million in 2018 thus far, up from $20 million in 2013 (private company)
Company Description: Manufacturer and marketer of tubular lighting
San Diego — If you ask Solatube International Inc., president, Bob Westfall Jr., to describe what the daylight and ventilation systems manufacturing company is about in one sentence, he'd simply say: "fresh air and natural light — that is our business."
Founded in 1991 by businessmen David Rillie, John Hanley and Graham Dickson, the Vista-based company, which services residential and commercial spaces, got its start by offering homeowners a tubular lighting, which uses advance optics and technology to capture and redirect daylight through a reflective cylinder which then diffuses it at the ceiling level.
Since then, Solatube has expanded into the commercial space, with installations in the Encinitas Union School District, Grossmont College, Oceanside Unified School District, and at Coca-Cola plants in Peru, China and Saudi Arabia, among others. The company has added additional international markets to its list of clients, including working with businesses in Africa, Asia, Europe, South America and North America, expanding Solatube products to more than 100 countries.
Ventilation Market
In 2000, Solatube officially entered the ventilation market with a focus on providing consumers with an affordable, energy efficient way to solve heating and cooling challenges at home and at the office.
In 2008, Solatube was tapped to be the main lighting provider for the Beijing Science & Technology University, a sporting event venue at the 2008 Beijing Olympics, and also for the 2016 Olympics in Brazil. It recently added a sales office in China, which is an expanding market for revenue growth, said Westfall, who has been president since 2008.
Solatube continues to release new products, including its "Whole House Fan" in April, and has added 20 more employees in the last four years, bringing that number up to 140. The company's revenue has grown to nearly $50 million in 2018 so far from around $20 million in 2013, with projections to grow an additional 5 percent by the end of this year.
"Now we are focused on really rolling the house fan out," said Westfall. "It ventilates the entire home very quickly and is supposed to replace air conditioning or, at the very least, augment it. It is way less expensive than turning on the AC because it has a super-efficient motor. A lot of people actually prefer it because air conditioning dries the air out so much. We believe this is a huge category that can bring us a lot of sales growth."
Prev Next