PRODUCTION: NEW CEO LEVERAGES DISTRIBUTION CHANNELS, DIVERSE CLIENTS
RF Is Flying Under the Radar and Soaring at Same Time
Wednesday, June 27, 2018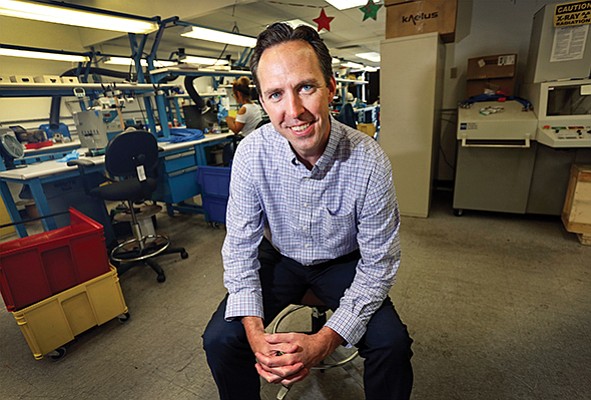 San Diego — Cables, connectors and jumpers. That's the space where specialty manufacturer RF Industries Ltd. is finding its spark.
RF INDUSTRIES LTD.
CEO: Robert Dawson
Revenue: $31 million in 2017; $30.2 million in 2016
Net income: $382,000 in 2017; net loss of $4.1 million in 2016
No. of local employees: 70
Headquarters: Mira Mesa
Year founded: 1979
Stock symbol and exchange: RFID on Nasdaq
Company description: Designer and manufacturer of interconnect products, namely cables, connectors and jumpers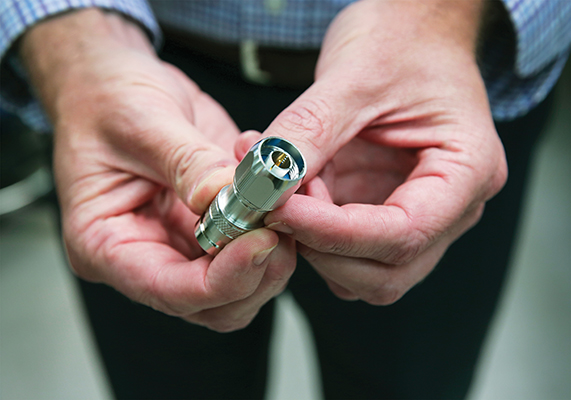 At the halfway point of fiscal 2018, revenue has outpaced all of fiscal 2017.
RF Industries (Nasdaq: RFIL) on April 30 wrapped up the biggest quarter in its nearly four decades of existence. It brought $22.4 million worth of sales, up from $7.6 million in the year-ago quarter. The business publicly announced its numbers June 11.
"I like being under the radar and outworking people, and that's kind of what I think we did," said Robert Dawson, who is finishing his first year as CEO.
Dawson, 44, doesn't seem eager to take all the credit. In an interview, he said he had a pretty good start when he took the top job. But several things went well in the second quarter.
Quick-Turnaround Orders
RF Industries' core business is quick-turnaround orders, fulfilled in days or weeks. The business aimed for 10 percent to 15 percent growth while layering in opportunities to get larger projects in the industrial and wireless carrier markets.
"We've done a good job of getting ourselves in front of the right people," Dawson said.
RF Industries has also leveraged distribution channels. Generally, the CEO said, if an original equipment manufacturer needs a custom, unique or heavy product, RF Industries sells the piece directly. "Whereas if we can throw it on a shelf at a distributor, and they can hold it as inventory for us, they're truly a force multiplier for us in the marketplace," he said.
$140 Billion Market
The worldwide market for cable assembly products was $140 billion in 2016, according to the company and industry analysts; RF Industries estimates that in North America, there are 1,105 suppliers participating in the cable assembly business.
A single customer accounted for 59 percent of RF Industries' sales during the first six months of the fiscal year, according to a securities filing. The company declined to name the customer.
Part of RF Industries' business is selling to defense contractors, industrial equipment manufacturers and companies that build cars, aircraft and boats. The CEO declined to name the original equipment manufacturers or the products that have RF Industries' cable assemblies inside.
The company's products route electrical signals through fiber optic, copper or coaxial cables. There are thousands of product versions and thousands of connector types.
Getting It Together in Divided Space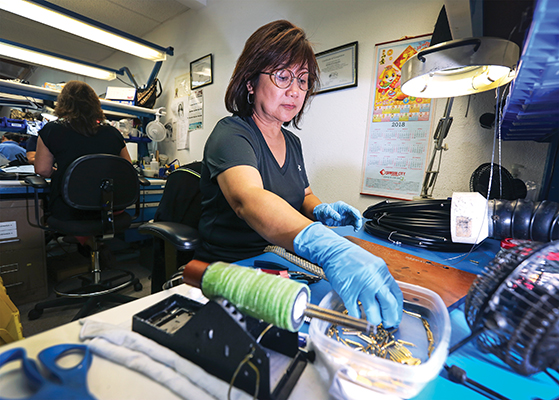 Dawson showed a reporter the San Diego headquarters and factory, which has "grown opportunistically" into several disconnected suites in an office park off Miramar Road. It may look haphazard in places, but the 22,000 square feet of space gets the job done. "We're less about form and more about function," the CEO said.
Space got so tight that Dawson had to leave his office; he now works out of a converted conference room. A pile of boxes in the corner holds the contents of the office he left.
RF Industries' San Diego workforce turns disparate components such as cable rolls and connectors into complete assemblies.
Four Factories
Following acquisitions in the northeast United States in 2011 and 2015, RF Industries has four factories, each making slightly different products. The business employs 70 people in San Diego and 200 people in total.
Howard F. Hill founded the company in 1979 and was chief executive until January 2015, stepping in again in an interim capacity in 2016. The 77-year-old Hill remains on the board of directors.
Dawson, 44, relocated from Maryland to take the CEO's job in mid-July. He, his wife and his two children have settled in Carmel Valley. Kelly Dawson, his spouse, is a project management and supply chain professional formerly with Receptos and now with Gossamer Bio.
Loyal Employees
Dawson said he jumped at the chance to run RF Industries because the company has so many things going for it. That includes quality products and "a perfect balance sheet: no debt, cash on the books." The customer set is diverse and the employees are loyal. The average San Diego worker has a 15-year tenure.
The recently ended quarter offers additional cash and flexibility, Dawson said.
It may be a good time to make acquisitions, Dawson said, though as of June 14 he said nothing was on the table. Whatever RF Industries buys should give it a new set of customers and be a good fit for the company culture.
"If it feels slightly off, it probably is," Dawson said.
Whatever the future holds, Dawson and RF Industries don't plan to rest on their second-quarter successes.
"I'm not great at standing still," the CEO said.