With a Nod to the Past, Developer Brings Row Houses to Bankers Hill
Wednesday, June 27, 2018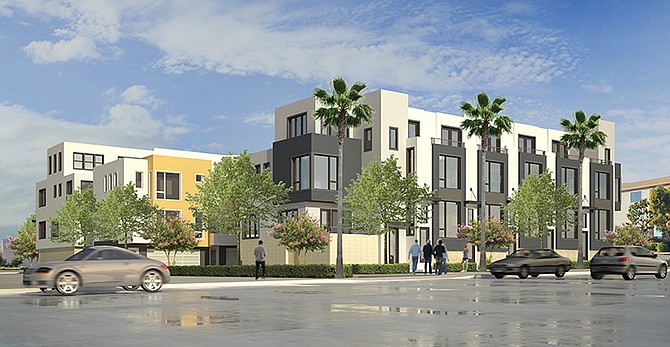 San Diego — Bankers Hill on the edge of downtown San Diego is drawing renewed interest from developers, who see its proximity to Balboa Park and its reputation as one of the city's most walkable neighborhoods as attributes few other locations can match.
Among the latest entries is CityMark Development, which is building 21 row houses at 525 Hawthorn St., at Sixth Avenue.
"Bankers Hill has become such a vibrant neighborhood. It has close proximity to everything. It has the best restaurants and it's near Balboa Park and downtown," said Russ Haley, vice president of CityMark. "Balboa Park, one of San Diego's most remarkable assets, will become the front yard for these homeowners."
CityMark has dubbed its $18 million Bankers Hill project XPO-Bankers Hill in a nod to the 1915 Panama-California Exposition set in Balboa Park.
"Many of the residences front Balboa Park or they have a view of the downtown skyline or they look west toward the bay," Haley said. "From some of the units, you can see blue water."
The three-story row houses range in size from 1,321 square feet to 1,888 square feet with two to three bedrooms and two-and-a-half to three-and-a-half bathrooms.
Each row house has a two-space garage and what CityMark calls "a private view deck."
"They are very contemporary in nature, both from an exterior design as well as the interior finishes," Haley said, adding that they're "a modern twist for a traditional townhome."
The color scheme is cream, gray and brown with a lot of stonework.
"You have kind of a stone face to the row homes that you typically find in old brownstones," Haley said.
The row homes aren't cheap, with prices starting at more than $800,000, but Haley said "they're a great buy" considering their location and the price of downtown tower condos, many of which top $1 million for much smaller units.
CityMark late last year completed a more modestly-priced project in Lemon Grove, the $20 million Celsius apartments, designed as workforce housing with monthly rents ranging from $1,550 to $2,300.
"We build urban projects. We build anything from high-end condos to apartments," Haley said.
The Bankers Hill row house is "a very common product type for CityMark," he said.
Besides CityMark, Bankers Hill's latest additions include several projects by Foley Development.
Among them is the transformation of the building that was home to The Daily Transcript into an office complex and construction of a 56-unit apartment building on adjacent property.
Foley Development also has a 99 unit apartment project on the west side of Third Avenue.