SOFTWARE: MITEK'S TOOLS TAKE VERIFICATION TO NEXT LEVEL
Identifying Opportunity
Monday, June 25, 2018
San Diego — On the internet, nobody knows you're a dog — or so goes the early 1990s adage about online anonymity.
For companies conducting business online, that's a problem. It's one that San Diego software company Mitek Systems has developed algorithms to help solve.
It is a new use for the technology Mitek has been deploying in the service of financial institutions since the early 2000s. CEO Jim DeBello says the growth of its ID verification services will spur the company to greater than 30 percent revenue growth this year and continue to broaden its customer base into new industries and geographies.

MITEK SYSTEMS, INC.
CEO: Jim DeBello
Revenue: $45.4 million in fiscal 2017; $34.7 million in fiscal 2016
Net income: $14.1 million in fiscal 2017; $2 million in fiscal 2016
No. of local employees: 119
Headquarters: San Diego
Year founded: 1986
Stock symbol and exchange: MITK on Nasdaq
Company description: Software company using artificial intelligence algorithms for digital identity verification and mobile capture
Mitek was founded more than 30 years ago around technology it bought from HNC Software, the fraud detection company that was founded by a UC San Diego professor and later acquired by FICO. For years it provided back-office data security services to the U.S. government, shielding communications at outposts, such as embassies worldwide. But when the Cold War ended, so too did those government contracts.
When DeBello was hired in 2003, the company had nine employees, he recalls.
Remote Deposit
DeBello introduced Mitek's flagship product, which uses imaging to allow banks to offer customers the options of depositing a check remotely by taking a photo of it with a smartphone.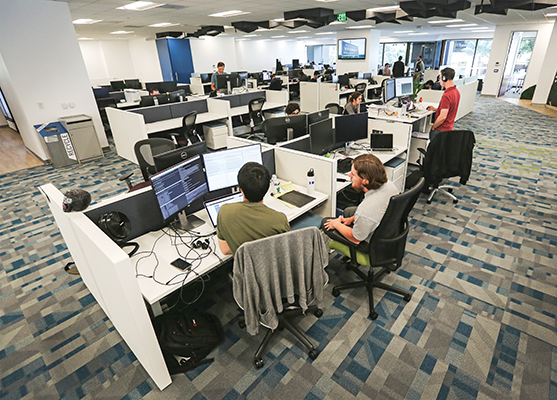 "We really are a critical component of the workflow to enable commerce among consumers," he said. "We're a B2B company that touches the consumer, and we learned that from our mobile check deposit product."
Today about 6,200 banks, including the top 10 in the U.S., use that technology; Mitek processes billions of checks yearly. And that business isn't slowing: DeBello said it continues to grow 15 percent to 20 percent yearly. The company today has more than 300 employees worldwide.
But it's the deployment of identity verification solutions that DeBello believes will fuel even more rapid growth in years to come.
"We think we hit a vein to leverage the technology into a new use case," DeBello said.
Algorithms
Businesses that are looking to transact with customers online and want to confirm their identification can use Mitek's algorithms to confirm whether the ID they provide is authentic, and whether it belongs to the person providing it.
"In the U.S. we have 400 active licenses from 50 states; vertical formats, horizontal formats (and) new versions that come out with different security features that aren't being promoted, but are being (implemented) to keep ahead of the bad guys," DeBello said. "Our job is to read all that stuff."
Mitek has an advantage over newer entrants in the digital identity space because of its established relationships with financial institutions, which are required to gather information on customers in an effort to prevent them from being used to facilitate money laundering and other financial crimes.
Having people do that task isn't possible at the volume at which companies need the service, DeBello said.
"You can't scale the business and keep up with the changes accurately," he said.
Using machine learning, the Mitek platform adapts to changes in identity documents. It also uses facial recognition tools to determine whether the person providing a digital image of an ID is the person pictured by requesting a selfie for comparison purposes.
Licensing and Maintenance
Mitek's revenue comes from the sale of licenses to use its products, which use its patented technologies. A secondary revenue stream comes from providing maintenance and other services for those products. 
Demand for technology that can help determine whether users are who they claim to be online, coupled with rising awareness by consumers of the level of fraudulent activity online, has created a new market for companies like Mitek that have technology to assist businesses in reducing data breaches.
DeBello said the Equifax hack, in which the data of 143 million Americans was breached, and the recent revelations about online activity by Russian operatives in an attempt to influence the 2016 U.S. presidential election, brought the notion of how to secure digital information and verify it to the forefront of consumers' minds.
European Acquisitions
A trio of acquisitions in recent years in Western Europe related to that business has expanded Mitek's footprint outside of its North America home base. In 2015, the company set up European headquarters in the Netherlands after purchasing Dutch software company IDchecker for more than $10 million in 2015. In 2017 it acquired Barcelona-based ICAR Vision Systems for $15 million. And earlier in 2018, it spent about $50 million to add on artificial intelligence firm A2iA, which is headquartered in Paris.
DeBello says additional geographic expansion is ahead for the company, which anticipates $60 million in revenue in fiscal 2018, or year-over-year growth of more than 30 percent.
That's a financial turnaround. It wasn't until 2015 that the company entered the black for the first time in years. The year prior it had lost $5.3 million, following a year in which it recorded a $7.3 million loss.
Through Mitek's most recent acquisition, it now has technology that can "read" Asian languages, which gives Mitek the option of entry into another new market. It also bolstered its roster of scientists devoted to further technological development:
"We picked up a large group of Ph.D.s and advanced degree scientists to add to our Mitek Labs team," he said.
Broadening how its technology can be used means Mitek's customer base is no longer solely banks.
Kathleen Peters, Experian senior vice president, heads the credit reporting agency's fraud and identity business.
Peters said the company's decision analytics group, which offers fraud and compliance management among other services, uses Mitek's technology, along with others, to reduce lenders' credit risk.
"As we are looking at fraud and identification, we really believe those things go hand in hand," Peters said. "We've found that consumers will tolerate a certain amount of friction in the interest of their own protection, but they don't want it to be so friction-laden that it gets in the way of their transaction and having that convenience to get a credit card or shop online or what have you."
To navigate that, Experian uses multiple layers of security with measures both passive and active, or visible to customers, she said.
Evolving Service
"Mitek allows us to extract information by reading the characters on the government ID, which can be used to form fill an application or shipping notice, but we can also do a lot of passive checking that helps protect the client as well," she said. "We've been partnering with them for several years now and their technology just keeps getting better and they keep adding these new aspects."
DeBello said Mitek's ID verification business is growing 50 percent year over year, more rapidly than mobile deposits, a more mature line of business.
"We serve big enterprise customers who are serving consumers for mobile commerce and shared economy services," DeBello said. "You can imagine, for example, that if you're renting your home, you want to know if (the renter) is legit or not, and vice versa, and it's becoming more mainstream to verify that."