Digital Marketing Agency IMI Names New CEO, New CFO
Monday, June 25, 2018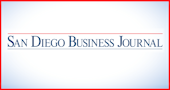 Digital marketing agency Internet Marketing Inc. (IMI) recently named a new CEO and chief financial officer (CFO).
The company said Jason Brigham, who joined IMI in 2015 as vice president of marketing and sales operations, would become CEO effectively immediately.
Brigham has more than 13 years of experience in the industry, according to IMI, which started 11 years ago and has offices in San Diego and in Las Vegas, according to a June 25 news release.
He steps in for Brandon Fishman, former CEO and cofounder, who will remain on IMI's board of directors but no longer be involved with the agency's daily operations, the company said.
Fishman, a serial entrepreneur, in 2017 launched another company. The business, VitaCup, sells single-serving pods of coffee or tea fortified with energy-boosting vitamins for use in Keurig-style machines.
IMI also announced Dan Romeo as its new CFO. Romeo, who has been in the industry for 15 years, recently returned to IMI. He had previously worked at the agency from 2014 to 2016 before leaving for the CFO role at PIA Agency, another local marketing agency.
Reach reporter Sarah de Crescenzo at sarahd@sdbj.com.