Truepic, 'World's First Photo Notary,' Raises $8M Series A Financing
Sunday, June 24, 2018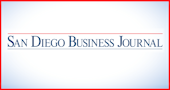 San Diego-based digital photo authentication platform Truepic said June 21 it has raised $8 million in Series A funding.
The company, founded in 2016, says it's the "world's first notary" for digital photos, and that its technology allows business and consumers to verify images as authentic.
Truepic has been used in more than 100 countries in industries including insurance, media, beauty and home and vehicle rentals.
Reddit, the social news and media aggregation site, uses Truepic's technology to verify photos submitted by those featured in its periodic "Ask Me Anything" (AMA) series, the company said.
Truepic said its technology is also used by the Syrian American Medical Society (SAMS) uses it to document the humanitarian situation in Syria; the Antiquities Coalition, to document historical and cultural heritage sites under threat; and Kopari Beauty, the San Diego-based beauty brand, to certify before and after photos.
Participants in the Series A round included Farmington, Connecticut-based private equity firm Dowling Capital Partners; FirstCall cofounder and former Thomson Financial CEO Jeffrey Parker; founder and CEO of Platinum Technology and SilkRoad Technology Andrew "Flip" Filipowski; Harvard Business School professor and venture capitalist William Sahlman; and other investment offices, Truepic said.
Truepic, founded by Craig Stack and Jeff McGregor, has 16 full-time employees.
"Fraudsters have taken full advantage of unsuspecting consumers and social platforms facilitate the swift spread of false narratives, leaving over 3.2 billion people on the internet to make self-determinations over what's trustworthy vs. fake online," said McGregor, Truepic's CEO. "Photo manipulation and the rapid development of new video editing technologies are at the intersection of this dangerous shift, and we intend to fix that by bringing a layer of trust back to the internet."
The company also announced it had named Mounir Ibrahim, who previously served as a foreign service officer with the U.S. State Department and a key Syria advisor, its vice president of strategic initiatives, and Matthew Robben, who previously held management and leadership roles at Dropbox and One Medical Group, its vice president of engineering.
Reach Sarah de Crescenzo at sarahd@sdbj.com.