Early-Stage Booster Comes to Town To 'Create, Incubate and Accelerate'
Thursday, June 21, 2018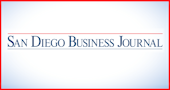 San Diego — A San Francisco-based seed-stage investment firm and a venture capital fund — separate businesses that work closely together — are becoming increasingly active in the Southern California startup scene.
Nex Cubed and Sway Ventures share office space overlooking the Pacific Ocean on Prospect Street in La Jolla. The companies also share some DNA, with some operating partners and advisors, their respective terms for those roles, in common.
Nex Cubed is the relative new kid on the block, having launched in January 2017. It has been ramping up its San Diego investments as part of a broader push into the growing startup scene in Southern California, according to Daniel Haders II, who oversees its health-care innovation portfolio.
The company functions as an early-stage booster of sorts, with three tracks — dubbed Create, Incubate and Accelerate — based on a startup's status, although the Incubate track is its most active to date. Nex Cubed typically takes 6 percent equity in exchange for $25,000 and its services, though Haders said this may vary by company. He described the consulting-style services the company provides as "bespoke," or tailored to each company.
Often, the founders it works with are more experienced than the stereotypical college dropout entrepreneur, he said; since its four-month program is remote, no temporary relocation is required, unlikely many incubator and accelerator programs, making it more attractive to founders with responsibilities that keep them tied to a particular geography.
Nex Cubed has made 24 investments since its launch; of those, five were in San Diego companies, including Trials.ai, which makes clinical trial software that uses artificial intelligence, and Medcrypt, a medical device security startup. The company says it invests in "frontier technology" companies and the companies it has invested
Kim Walpole, co-founder and CEO of Trials.ai, said the company connected with Nex Cubed after the startup's stint at the UTC site of EvoNexus, the Southern California incubator.
"We have a few things we think about (when considering taking on an investment): Are these people that we like and can have a great long-term relationship with, and then, what kind of opportunities are going to be available through that particular medium?" she said. "Often, with the incubator ecosystem, it's, well, 'you're done, and we have some sort of alumni thing' versus this really hands-on approach that (Nex Cubed) has taken."
The opportunities Trials.ai saw through Nex Cubed, including its services, were connections to the Bay Area and its links to Sway. The Sway team became familiar with Trials.ai as it moved through the Nex Cubed program and roughly six months ago joined its latest round of funding, investing an undisclosed amount in the company.
Ashok Kamal, executive director of the San Diego chapter of Tech Coast Angels, said the increased focus by Nex Cubed and Sway in the region reflects an increasing level of interest from entrepreneurs that start companies in San Diego to remain here — and, in return, more investors from the Bay Area making their way south to take advantage of those investment opportunities.
"Sway/Nex Cubed … bring capital power and vertical focus in hot areas such as AI and digital health that can boost the S.D. startup ecosystem," Kamal said. "In addition to financial and social capital, they are helping to bridge the early-stage funding gap by accelerating early-stage San Diego companies and priming them for groups such as Tech Coast Angels that target startups with product/market fit. This is how a healthy capital spectrum is developed."