ENERGY: UTILITY ENLISTS FIVE BUSINESSES TO BUILD LITHIUM-ION BATTERY SITES
CPUC Gives OK for SDG&E's 5 New Energy Storage Facilities
Thursday, June 21, 2018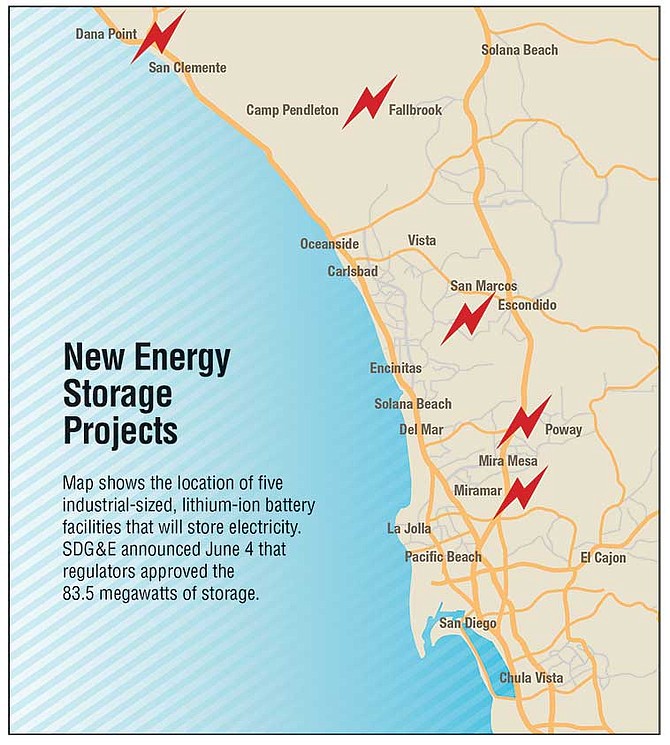 San Diego — San Diego Gas & Electric Co. has enlisted the help of five businesses to develop more energy storage within its service territory.
The effort promises to nearly double the amount of electricity storage available in the region by December 2021.
Some 83.5 megawatts of industrial-sized, lithium-ion battery facilities will offer the utility a way to store excess renewable energy for use later, during hours of peak consumption.
The California Public Utilities Commission OK'd the projects and SDG&E announced that approval during ceremonies June 4 at the site of one future facility off Miramar Road.
"I look forward to seeing this project come online next year and continue our collective journey toward a cleaner and greener San Diego," said San Diego Mayor Kevin Faulconer, who attended the ceremony.
The project from Renewable Energy Systems America is a 30 megawatt/120 megawatt hour facility. Once complete in December 2019, it will be able to provide enough electric power to supply 20,000 houses for four hours, a utility spokesman said.
Renewable Energy Systems is based in the United Kingdom.
A project with even more capacity will go up in Fallbrook. Fluence plans to complete a 40 megawatt/160 megawatt hour lithium-ion battery storage facility by March 2021. Fluence is a joint venture of Siemens and AES, based in Arlington, Virginia.
Other contractors building lithium-ion battery storage facilities are:
• Advanced Microgrid Solutions of San Francisco, which will build a 4 megawatt/16 megawatt hour storage facility in San Juan Capistrano. SDG&E's service territory extends into southern Orange County. The project is expected to be completed by December 2019.
• Powin Energy of Portland, Oregon, which will build a 6.5 megawatt/26 megawatt hour storage facility in Escondido. The project is expected to be completed by June 2021.
• Enel Green Power of Italy, which will build a 3 megawatt/12 megawatt hour storage facility in Poway. The project is expected to be completed by December 2021.
Also at the June 4 event, Sempra announced a deal with OhmConnect Inc., which will run a demand response program equaling 4.5 megawatts.
Separately on May 31, the Public Utilities Commission announced some $738 million of transportation electrification projects, including initiatives to support electric cars.
The commission authorized SDG&E to provide up to $137 million in rebates to people installing car chargers in their homes.
According to a commission press release, the sum could cover some 60,000 Level 2 charging stations.
More details of the effort were unavailable. As this issue went to press, SDG&E was still preparing its response to the commission, a spokeswoman
said.