ENERGY: THEY SEE CO. AS UNFOCUSED CONGLOMERATE OF DISPARATE BUSINESSES
Activist Investors Seeking Major Changes at Sempra
Wednesday, June 20, 2018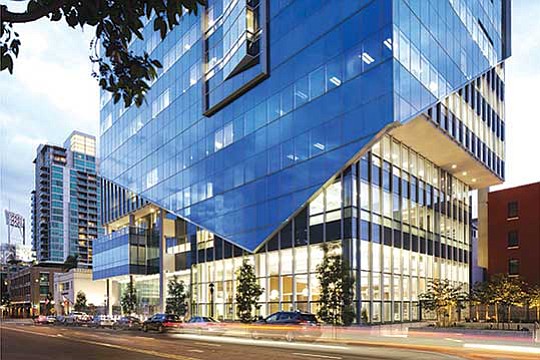 San Diego — Sempra Energy has the potential to grow to at least $139 per share, activist investors said recently as they introduced a proposal to remake the company's board and streamline its business model by jettisoning certain assets.
SEMPRA ENERGY
CEO: Jeffrey Martin
Revenue: $11.2 billion in 2017; $10.2 billion in 2016
Net income: $256 million in 2017; $1.37 billion in 2016
No. of employees: 16,046 companywide
Headquarters: Downtown San Diego
Year founded: 1998
Stock symbol and exchange: SRE on the New York Stock Exchange
Company description: Energy services holding company and parent to San Diego Gas & Electric Co.
The activists said their plan could add $11 billion to $16 billion in value, taking Sempra's stock price to a range of $139 to $158 per share.
Shares in the energy holding company spiked 18 percent to a high of $119.78 on June 11, the day Elliott Management and Bluescape Resources Group made their plan public. Shares in Sempra (NYSE: SRE) closed the day at $117.19, having appreciated 16 percent from their June 8 close of $101.43.
The two investment firms describe their strategy as a "back to basics" approach.
Sempra acknowledged receiving Elliott and Bluescape's letter, adding that it would respond after further consideration.
"Sempra Energy is committed to an open dialogue with all shareholders and considers investor perspectives in the context of the company's existing strategy and opportunities to deliver long-term shareholder value," the statement said. "Our board and management will review their letter and presentation in detail and respond in due course."
Elliott and Bluescape, which collectively own 4.9 percent of the company, say Sempra is undervalued and needs change. They said they have lined up six candidates with appropriate backgrounds, able to take seats on the 14-member Sempra board. They also recommend a thorough examination of Sempra's businesses, with an eye toward exiting some of them.
The offer came barely a month after Sempra shareholders elected a full slate of directors at its annual meeting May 10.
"Elliott and Bluescape have chosen a particularly vulnerable time to press their case," wrote analyst Christopher Turnure of J.P. Morgan.
Sempra has a brand new CEO in Jeffrey Martin, who was promoted May 1 after holding several leadership positions in Sempra Energy, San Diego Gas & Electric Co. as well as Sempra U.S. Gas & Power. He succeeded Debra Reed, who plans to remain chairman until December.
The activist shareholders said they recently worked with two other companies in the utility industry, NRG Energy Inc. (NYSE: NRG) and FirstEnergy Corp. (NYSE: FE), to get better shareholder returns. The review created "more focused companies," the investors said.
Prev Next