MEDICINE: HIGH VOLUME A MUST; ADOPTION BECOMING NORM
Robotic Surgery Rides Tech Momentum Wave
Monday, June 18, 2018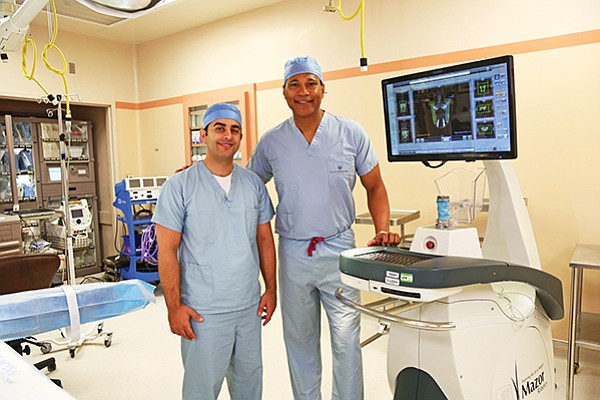 San Diego — Sharp Healthcare recently touted the first robot-assisted total knee replacement in San Diego. Online, Scripps Health claims to have the region's fastest growing robotic surgery program.
Palomar Health's website brags about performing robotic surgery since 2007, longer than "any other medical facility in the community."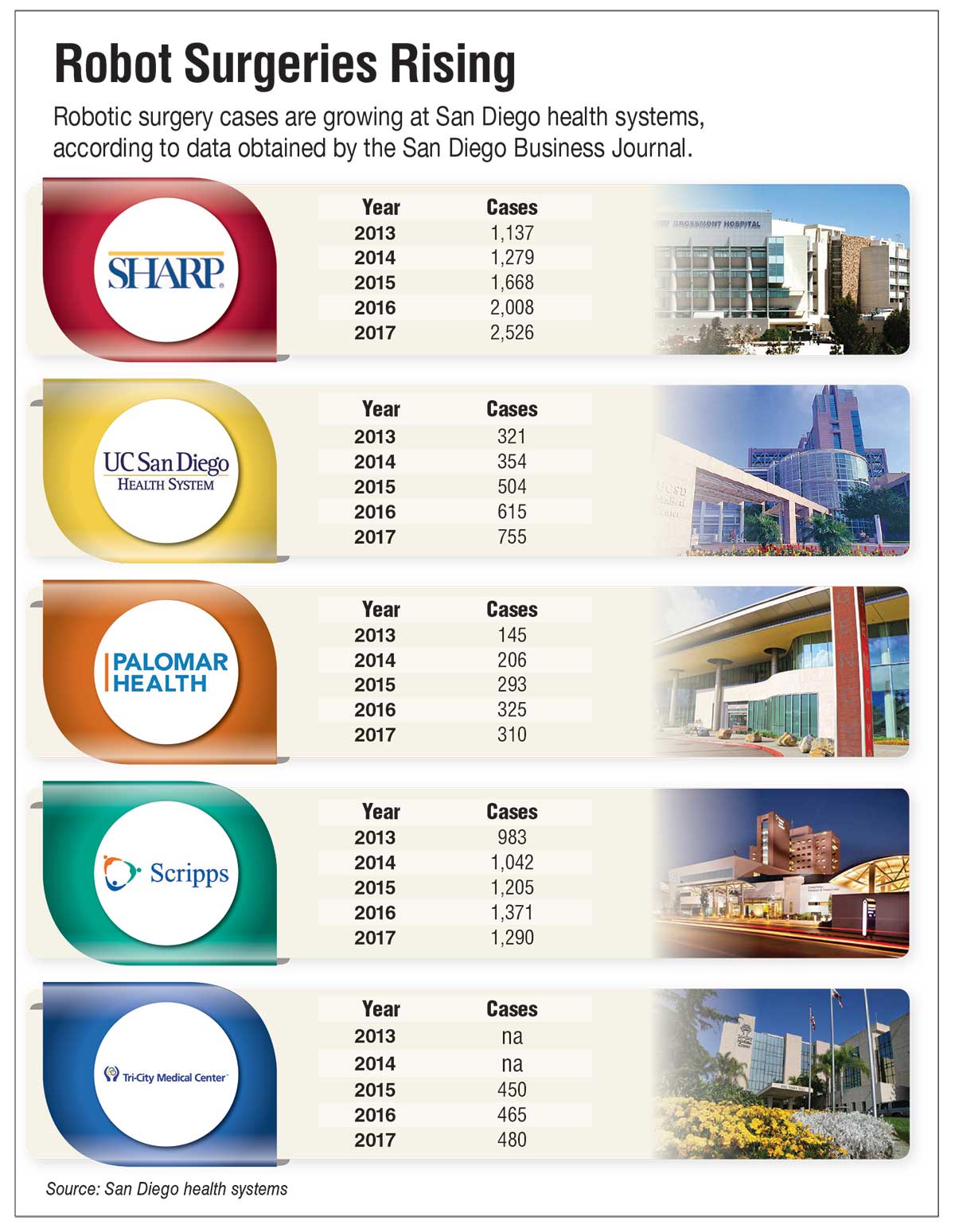 In San Diego hospitals, robots are on the rise, judging by splashy marketing and an increase in robotic surgery cases, per data obtained by the San Diego Business Journal. Hospital officials point to clamoring among patients and surgeons for the approach, crowded with regional competition.
They also say the technology makes clinical and fiscal sense — that is, for the right surgeries. This follows national studies questioning high costs and whether robots deliver better results for certain procedures.
Robotic surgery, something of a misnomer, typically entails a surgeon looking through a viewer at patient anatomy, while remotely controlling robotic arms attached to surgical instruments. Surgeons liken it to a video game, in that the technology precisely mimics hand and foot controls.

This method builds on minimally invasive laparoscopic surgery, for which a small camera and instruments enter through minor incisions, replacing open surgeries.

Starting the Race
In 2000, the first robotic surgery system, da Vinci, won regulatory approval, unleashing a national arms race for the latest tech.
Dr. Christopher Kane, who chairs UC San Diego Health's urology department, said it's fair to criticize the early days of robotic surgery, when adoption outpaced medical evidence.

The health system's comfort level rose following positive clinical data for some procedures. In recent years, Kane said at UC San Diego Health the technology generally shortened hospital stays and lowered complication risks.
Numbers bear out robots finding favor: The health system reported 755 robotic surgeries in 2017, a 135 percent increase from 2013.
"So what I think it's migrated to now that we're 15 years into the maturity of robotic surgery is surgeons have come to understand where it really seems to provide value," Kane said.
As one example, he said the dexterity of a robot makes it best for partial nephrectomy, a tough procedure involving the removal of a kidney tumor while leaving the rest of the organ intact.
But da Vinci robots can run as much as $2 million, along with an annual service contract. Kane said the costly capital investment is worth it.
"The argument that makes that reasonable is if it decreases the length of stay or decreases the transfusion rate and gets people back to work quicker," he said.
High Volume Needed
Whether robots pencil out economically largely depends on volume, according to James Bush, a principal with Deloitte Consulting's health care and life sciences consulting practice.
"If you're going to spend a million or two million on a robot, how many procedures are you going to perform to see the return on the investment?" said Bush.

Research shows, Bush said, high volumes correspond with physician proficiency, a necessity to unlock the advantages of robots.
"It's almost like a production line in a factory. The more consistency you have, the better you become at that procedure," Bush said.
Raising Questions
While hospitals want to be seen as on the cutting edge, he noted two long-term analyses suggest robots don't boost outcomes in some instances.
Two multi-year studies published last October in the medical journal JAMA indicated that robot-assisted surgeries cost more but are no more effective than certain laparoscopic surgeries, like whole kidney removal.
On the other hand, the technology clearly benefits other surgeries, stated one of the studies, conducted by Stanford University School of Medicine.
The Stanford research also indicated robot surgeries are improving in cost and efficacy as time passes, especially since the 12-year study dates back to 2003, when physicians were still new to the technology.
Others echo this sentiment.
"In the beginning, we didn't know about the learning curve and how long it would take a surgeon to be that good at it," said Dr. Carol Salem, medical director of Scripps' minimally invasive robotic surgery program.
A Missing Factor?
She added cost-benefit analyses typically don't factor in outpatient improvement, a key piece.

"Even if the overall outcome would have been the same with my hands, the benefits are getting better quicker," Salem said.
Scripps performed 1,290 robot surgeries in 2017 versus 983 cases four years prior.
While embracing the technology, Salem said Scripps is holding surgeons accountable in controlling robotic surgery costs, a first-of-its-kind push. That could mean, for instance, being more mindful of which instruments are necessary.
"It's not telling the surgeon, 'No you can't use it (a robot),'" said Salem. "But it's certainty making us more accountable for our use of it."
Technological Momentum
Salem said robots aren't going away. New technologies are emerging. Up-and-coming surgeons were trained on robots, posing recruitment challenges among lesser-equipped hospitals.
"Some of my younger partners don't even know how to do certain open procedures. They only know how to do it the robotic way," Salem said.
Many surgeons see robotic equipment, which affords a three-dimensional, magnified view, as indispensable for tricky procedures, according to Dr. Omar Khawaja, chief medical officer and an anesthesiologist with Palomar Health.
Doctors there carried out 310 robotic surgeries last year, more than double 2013's total. Most of the growth came in urology cases, an area Khawaja said has proven clinical benefit like less blood loss and sparing the nerves near removed tissues.
Palomar looks to grow its robotic footprint in specialized oncology, also supported by fairly strong clinical data, according to Khawaja.
Public preference, he said, puts hospitals without the technology at a competitive disadvantage.
"If you're seen as someone who is just going to send out the difficult cases, or there's certain sub-segments of your population that you're not going to be able to serve, I think that's just a large detrimental effect," Khawaja said.
Sharp Coronado Hospital, part of Sharp Healthcare, was able to lure a surgeon's group with a new da Vinci robot, which launched last July. That group complained of not getting enough robot time at prior facilities.
From October to May 24, the robot, Sharp Coronado's second, banked $532,000 in revenue.
The Coronado Hospital Foundation funded the da Vinci system, but in the future Sharp hospitals will likely pay for such purchases due to the technology becoming standard in care. That's according to Susan Stone, CEO at Sharp Coronado.
Stone said robot surgery caters to Coronado and the surrounding area, a high-end demographic.
"The island residents in Coronado are used to five star, top-of-the-line service in everything that they experience in life," Stone said.
The Numbers
Among regional health systems, Sharp Health reported the highest number of robot-assisted surgeries, with 2,526 cases in 2017, 122 percent higher than 2013.
Tri-City Medical Center recorded 480 robotic surgeries last year, an uptick from two years prior, having launched the program six years ago.
In a statement, Dr. Neville Alleyne of Tri-City highlighted the approach's benefits in spine surgery.
"Not only is robotic assisted surgery more accurate for the placement of screws in the spine, but it decreases the amount of time in the operating room and the time that patients are under anesthesia, reduces blood loss and decreases the infection rate. This allows patients to leave the hospital sooner," Alleyne said.