WINERIES: MILLENNIAL PALATES AND GOOD PRICES HELP PUSH WINE'S SALES
Rosé Continues to Be a Rising Star For Local Wineries
Sunday, June 17, 2018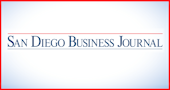 San Diego — In the last several years, rosé has risen in popularity among wine drinkers nationally. Despite being a newer and smaller market compared with its California-based counterparts like Sonoma County, Napa Valley and the Central Coast, San Diego is capitalizing on the trend.
Heather Newman, marketing director at urban winery Carruth Cellars, with locations in Solana Beach, Carlsbad Village and Little Italy, says the company increased its rosé production from 400 cases last year to more than 600 cases this year, and is on pace to produce twice that amount next year due to the recent surge in demand.
"We released our latest rosé in March of this year and have sold over 500 cases of it already, which is pretty nuts since it is not even summer yet," she said, adding that Carruth's 2017 Grenache rosé is the label's top-seller. "From what I can tell, it looks like that is almost three times the rate we sold of our previous rosé."
Summer Star
Due to its light, crisp, sparkling notes, summer is usually the most fruitful season for rosé vendors, as the wine is preferred during the warmer months by 20 percent of regular wine drinkers, according to a 2018 Nielsen report. Overall, rosé sales climbed 53 percent by volume to sales of $258 million in 52 weeks ending September 2017, according to Nielsen.
The reason it is so popular? For one, it is a perfect middle ground drink for consumers who prefer wine that isn't too sweet or too dry. Also, it is affordable, especially compared with red wine. The most popular rosé category by price point is the $11 to $15 bottle, constituting 31 percent of rosé sales nationally.
Eric Van Drunen, co-owner and winemaker at Charlie and Echo Winery in Miramar, has had a similar experience at his location this year as well, stating that since introducing sparkling rosé just six weeks ago, it has been "selling better than anything else we've put out lately."
Sales Sky Rocket
Ed Embly, owner of Hungry Hawk Vineyard & Winery in Escondido and vice president of the San Diego County Vintners Association, says he has made rosé the last three years out of malbec and tempranillo grapes, and the winery has seen its sales sky rocket. "We make a small production lot, around 100 cases, and we release around spring time. A lot of the time, it is sold out within a month."
While millennials are credited with the recent uptick in popularity for rosé, thanks to its relatively inexpensive price tag as well as the influence of social media, the demand shows that all generations enjoy it. And, though rosé has been most popular among women in the past, men are also jumping on the bandwagon as of late. "Customers tend to be everybody, not just women and not just people of a certain age," says Nico Roulston, owner of the Candied Apple Café in Julian, who adds his top-seller is his canned rosé. "Men, for the most part, get into it."