PHARMA: SCIENTIST.COM DOUBLES REVENUE TO $50M
Co. Creates, Facilitates CRO Marketplace
Sunday, June 17, 2018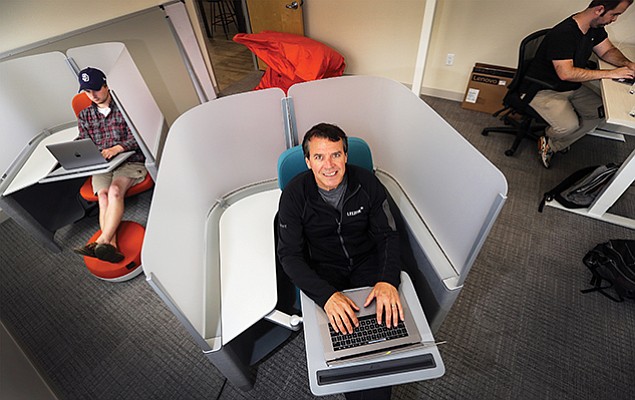 San Diego — Stationed at his cream-colored desk, Kevin Lustig retrieves an image on his computer that charts the emotional stages of an entrepreneur. They range from "WHYY?!" to "I'm on top of the world!" to an expletive cursing life.
Lustig, the CEO of Scientist.com, said he's been through them all, several times over, on the road to the company's explosive growth. But finally, he can relax a little.
SCIENTIST.COM
CEO: Kevin Lustig
Revenue: $6 million in 2015; $23.07 million in 2016; $50.27 million in 2017
Employee count: 65
Headquarters: Solana Beach
Company description: Scientist.com set up an Amazon-like marketplace that connects pharmaceuticals with niche drug development firms, called contract research organizations, or CROs. Increasingly pharmaceuticals outsource work to CROs to save money.
"We're an overnight success 12 years in the making," said Lustig, who also co-founded Scientist.com.
The company, which operates an Amazon-like platform for outsourcing drug development is among the region's fastest-growing private companies. Scientist.com reported $50.27 million in 2017 revenue, a whopping increase from $23.07 million in 2016 and $6 million in 2015.
The Solana Beach company, which also has a Boston and Cambridge, England, office, employs nearly 65.

Yet it took a while to reach a formula for success.
Near-Death Experiences
"We had two near-death experiences where we ran out of money. Three major financial model pivots. We've been left at the altar a week before Christmas for our first giant deal that we worked for a year on," Lustig said.
Founded in 2007 as Assay Depot, Scientist.com links pharmaceuticals to contract research organizations, or CROs, which are boutique firms that shoulder critical parts of drug development.
Scientist.com draws more CRO bids than the traditional method of calling familiar vendors to request prices, and pharmaceuticals can review side-by-side quotes. That's significant because CRO bids can vary widely — one firm may ask for $5,000 while another wants 10 times that.
Platform's Advantages
"We believe that using a platform like ours, taking advantage of all the efficiencies of a marketplace, that we reduce the cost of drug discovery," Lustig said. He added lower development costs should spark research into areas once economically unfeasible, as well as translate downstream into reduced drug prices.
Services found on Scientist.com span innovative approaches like bio-printing to moving single cells via acoustic tweezers. "It's all the latest, coolest, greatest technologies all in one place," Lustig said.  
Similar to e-commerce websites, pharmaceuticals vet bidders by perusing ratings and qualifications. The platform also streamlines a major step that can hold up deals by six months: legal agreements.
Lustig said pharmaceuticals and CROs — until Scientist.com arrived — were accustomed to hammering out individual legal contracts.
General Agreement
Now they can begin work right away. The platform offers a general agreement that has buy-in from 2,500 suppliers, yet can be tweaked if need be.
In addition, the company offers separate legal contracts tailored to specific areas. Pharmaceuticals also draw up custom pre-made legal agreements, leaving suppliers little choice if they want the gig.
"Solving the legal (part) was the hardest thing. It's taken us 10 years," Lustig said.
Scientist.com also struggled to find a workable business model. Previously, the company charged pharmaceuticals $250,000 to $400,000 annually for infrastructure and access. Eventually, these drugmakers balked at the fee, according to Lustig.
So in 2014, Scientist.com arrived at its current model: free to join and use, with the company taking up to a 5 percent cut from a CRO that secures a contract.
"2008 to 2011 was e-commerce, then we pivoted to the big enterprise fee, and then in 2014 we pivoted back to e-commerce," Lustig said.
External Forces
Success wasn't all about Scientist.com ironing out the kinks. External forces helped. Mainly, budget-constrained drugmakers increasingly farm out work to CROs rather than spend on internal operations.

Juli Moran, managing director of Deloitte Consulting's San Diego office, said there's a demand for Scientist.com's services in the face of rising drug development costs.
"Organizations that can quickly mobilize to connect the manufacturer with the right clinical services, scientific and interpretive skills provides a much needed capability to the research teams of pharma and biotech manufacturers," Moran wrote in an email.
John Babitt, a partner in transaction advisory services in life sciences for EY, said Scientist.com's growth speaks to focusing "on what seems to be a niche."
Lustig estimated the company's market share at 75 percent, saying the few competitors in the space don't have much experience.
San Diego may be the epicenter for facilitating CRO-pharmaceutical deals. The county is home to hundreds of CROs, drugmakers and stellar academic research. The region's beaches and waves — Scientist.com's office was strewn with surfboards — don't hurt.
Private Marketplaces
Along with a public-facing website,
Scientist.com has built private marketplaces for 15 of the top 25 largest pharmaceuticals, including the likes of AstaZeneca and Bristol-Myers Squibb. These marketplaces enable additional customization — and are a key part of company growth in recent years, according to Lustig.
Alongside revenue rolling in, Scientist.com last year raised $24 million in venture capital, led by Leerink Transformation Partners and 5AM Ventures. Prior to this, the company raised $7 million from the founders' friends and family.
Keeping Control
These limited fundraising events, according to Lustig, enabled the company to keep control. It's a lesson learned; Lustig cited Kalypsys, a now-defunct pharmaceutical company he co-founded and part of which was sold.
"At Kalypsys, I helped raise $170 million, and that turned out to be a terrible, terrible mistake, because that meant the investors ran the company. Here we got to a point where we were successful enough to raise money from excellent investors, but not give away control."
Early on, there was a chicken-or-the egg problem: Should the company get CROs or pharmaceuticals on board first? Turns out the former, as Scientist.com initially signed up 100 CROs, followed by drugmaker Pfizer.
"Getting the first client to bite is tough," Lustig said.

The experience of entering a new market will come in handy with Scientist.com moving into new industries: crop science, animal health, consumer health and cosmetic testing. These areas, Lustig said, are ripe for its services.
Over the years, Scientist.com expanded into clinical research, having initially specialized in discovery and pre-clinical research.
Lustig wore hiking boots during a recent interview — fitting considering he has traversed the highs and lows of entrepreneurship.
With Scientist.com growing so fast, it looks to be downhill from here.