LOCAL WINERIES SEE ADVANTAGES, BUT FOR NOW, FISCAL, SIZE REALITIES DILUTE THEIR ENTHUSIASM
Canned Wine Stacks Up Against the Competition
Sunday, June 17, 2018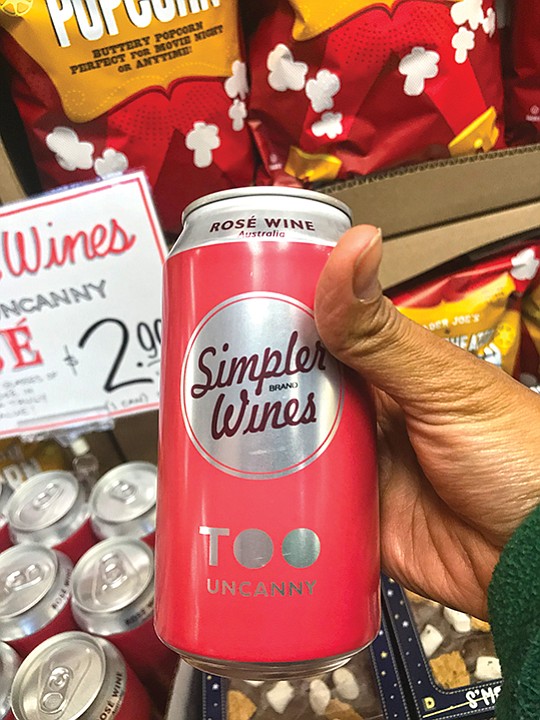 San Diego — Nico Roulston, owner of the Candied Apple Café in Julian known for its breakfast options and barbecue dishes, says he doesn't serve his customers anything but wine in a can these days.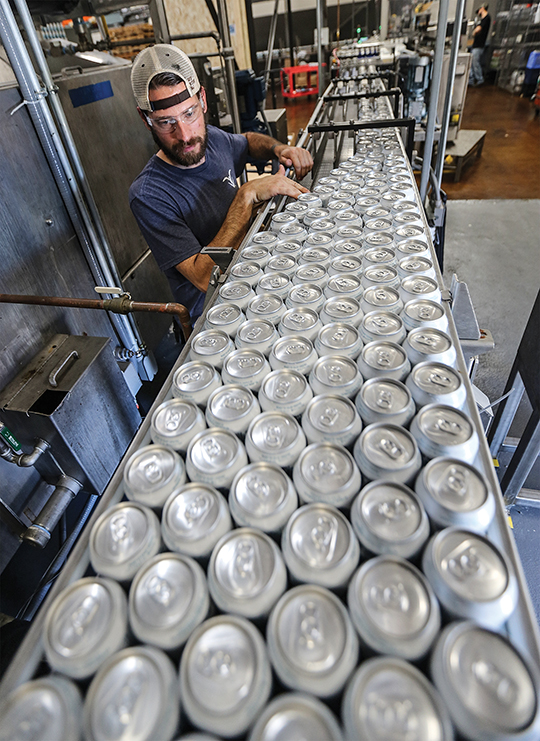 "We are a fast-casual spot where you walk up and order at a counter, so there isn't a lot of time to be spent opening bottles and pouring," said Roulston, who purchased the café in 2014 with his wife, Heather Roulston, and transitioned his entire wine inventory to cans almost two years ago. "It is so eco-friendly and can be stored for months without being exposed to anything but temperature. The ease of use and speed works very well for us."
With over 13 varieties of canned wines at his location, from Trader Joe's Simpler Wines ($4 for a four-pack) to Los Angeles-based Nomadica's exclusive art-curated wines ($12 a pop), Roulston believes the bottle-to-can conversion was a no-brainer for his business; he credits three percent of his annual wine sales to canned wines and believes that number will keep growing. Other than the simplicity of managing a canned wine versus a bottled wine, additional appeals are: Canned wine come in various sizes, generally from 250 to 500 milliliters, which is smaller than a standard 750ml bottle of wine and helps keep the wine from going to waste; cans are inconspicuous, light and easier to store and ship; cans preserve the wine without altering the taste or letting oxygen in; and, they are unbreakable and recyclable.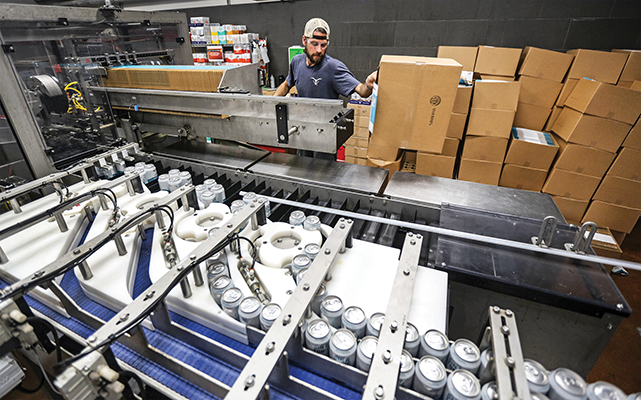 S.D. Wineries Not Diving In
Still, with all those attributes, canned wine only makes up 0.2 percent of all yearly wine sales, with glass bottles still owning the majority share at 73 percent nationally. With 116 wineries in the region, making a collective economic impact of $30.4 million in wine sales annually, San Diego appears to be taking a cautious approach to the canned wine movement. Sales at wineries increased by 88 percent from 2015 to 2016, according to a San Diego County Vintners Association report.
Heather Newman, marketing director at urban winery Carruth Cellars, with locations in Solana Beach, Carlsbad Village and Little Italy, says the reason canned wine isn't being manufactured in San Diego yet is because most locally-based wineries are relatively small, putting out an average 200 cases of wine per year, and are simply striving to keep up with the demand.
"We are not canning, but we have considered it and are open to it," said Newman, adding that Carruth sells about 10,000 cases a year. "Right now, we put every dollar we make right back into the company to be able to make more wine because we are selling faster than ever before. Once we have spendable income, we can maybe reconsider canning wine ourselves or outsourcing. But, we are not there yet."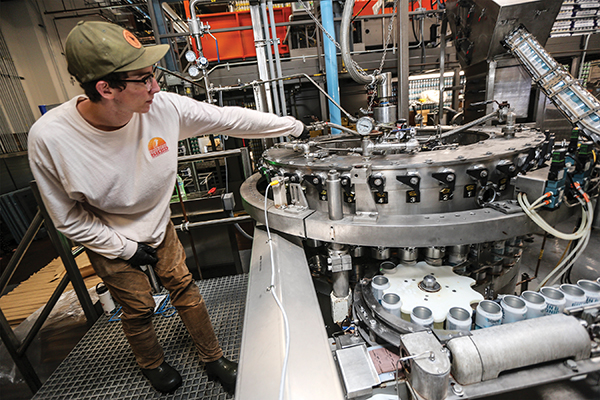 Ed Embly, owner of Hungry Hawk Vineyards & Winery in Escondido, and vice president of the San Diego County Vintners Association, says one of the major hurdles for San Diego-based wineries as it pertains to canning their own wine is the cost-to-income disparity.
"Most canned wine is pretty inexpensive, but, as smaller producers, we place higher cost on our products," he said. "I personally think it is a great idea, especially because of glass injuries and because cans are totally recyclable. But, with SD having mostly boutique wineries, it will be kind of tough to enter that market."
Regulations, Tariff
Embly adds that other things to consider, as far as cost and potential impediments, include making sure the can liners are just right so that the aluminum on the outside of the can isn't making contact with the wine on the inside; pressurizing the inside of the can, probably by way of added liquid nitrogen, to keep the can sturdy; also, making sure the can is the proper federal government-regulated size, which is different from a beer can size. Additionally, the government tariff that was recently placed on aluminum, could increase the price of cans in the near future.
Still, while others are treading lightly, Eric Van Drunen, co-owner and winemaker at Charlie & Echo Urban Winery in Miramar — which offers patrons an array of sparkling natural wines sourced from vineyards in San Diego County — and president of San Diego Urban Wine Week, is hoping to jump into the canned wine craze as soon as this year and capitalize on the broadening trend. Van Drunen says he plans to offer his customers a canned wine option by this winter, if not next summer at the latest.
Believing in the Can
"The industry isn't mature enough yet, so, it is still extremely difficult for a small winery like ours to pull it off," said Van Drunen, who sells 500 cases a year. "But, we are trying to find a way to get our feet wet and do 20 to 40 cases first and test the market. I believe in the can as a wine vessel — they preserve the wine well and they are recyclable, plus, they weigh nothing compared to shipping a bottle. And, the portability is a huge part of the appeal.
"We'd be looking at doing our own canning and getting a small canning production line set up," he continued. "The industry is taking off and, so far, it is proving to be a big trend, it just has to grow a little more to get down to the little guys like us." Van Drunen says to purchase and install a small canning production line would cost about $25,000 to $35,000, and he has already spent close to $8,000 on a few manufacturing pieces he hopes will get him started in canninga soon.
The Data
Data also backs this decision. According to Nielsen's 2016 "What Americans Are Drinking This Season" report, canned wine posted an impressive 125.2 percent sales growth during the 52 weeks ending June 18, 2016, with total sales of $14.5 million, up from $6.4 million the prior year. Its "Wine Trends to Watch in 2018" analysis shows the dollar percent for packaging canned wine grew by 59.5 percent in 2017 from the year before.
For local winemakers, the expectation is the canned wine scene will be a major part of the economy in the region, much like the craft beer market is now, with most crediting breweries with launching the canning movement that is now translating into wine. San Diego still ranks as the top county in the nation with 150 craft breweries as of Aug. 31, 2017, according to a San Diego Brewers Guild's report. San Diego County craft brewers produced an economic impact of about $870 million for 2016.
And, major players in that field are endorsing the movement. Erik Jensen, brew-master at San Diego-based Green Flash Brewing Co., says canning wine is a "great idea. Seems like it would be good for those occasions where glass is not appropriate or when you don't need an entire bottle."
Protecting the Flavor
Yuseff Cherney, founder and master distiller at Cutwater Spirits, which has been canning cocktails since 2017, agrees.
"There is actually a reason cans can be a superior package for liquor," he said. "Because, a can doesn't let light transmit through the package like a bottle does. Also, it has a really good ability of not letting air migrate into the product because of the closure. Those are the usual suspects as far as damaging the flavor of a product.
"I see the market growing with wine," Cherney added. "I think there was a stigma for a long time associated with cans that might have been unwarranted or due to technology not being as advanced as it is today. But, with modern liners and filling machines, there is no reason it can't be just as good as what is in a bottle."