Serving Seniors' Gala Makes 200,000 More Meals Possible
Friday, June 15, 2018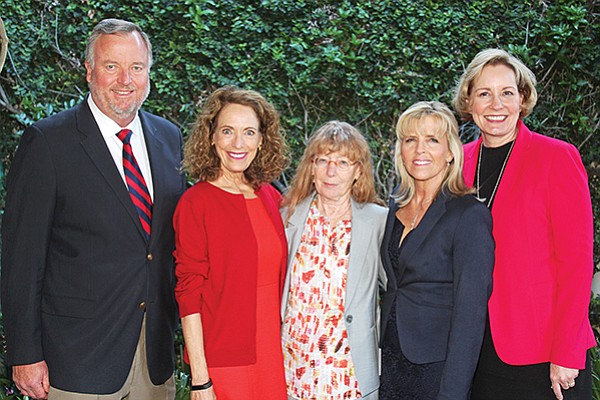 San Diego — Serving Seniors announced that it raised $477,000 at its 5th annual Experience of a Lifetime Gala held recently at the Del Mar Country Club. With more than 350 people in attendance at the sold-out event, the funds raised will go toward nearly 200,000 meals for those in need.
At the gala, Serving Seniors also announced its Ramona Housing Project developed in partnership with Chelsea Investment Corp. at 430 16th Street in Ramona. The project will be named the Schmale Family Senior Residence and will feature 62 one- and two-bedroom apartments complete with onsite supportive services. The Schmale Family Senior Residence is the third senior residence building developed and managed by Serving Seniors, which also operates communities for low-income seniors in downtown San Diego and City Heights.
Serving Seniors serves 2,400 meals a day at nine congregate dining sites and delivers meals directly to more than 500 homebound seniors across San Diego County. More than 85 percent of the organization's senior clients live below the federal poverty level on less than $1,000 per month and struggle to meet basic needs. Serving Seniors' meal program addresses hunger and food insecurity and meets the unique nutritional needs of older adults. Visit servingseniors.org.
• • •
The Scripps 27th Annual Spinoff Gala held recently at the Hyatt Regency La Jolla at Aventine raised $2.4 million to support Scripps MD Anderson Cancer Center, which will open for patient care later this year
Scripps Health and The University of Texas MD Anderson Cancer Center formed a partnership in 2016 to create Scripps MD Anderson Cancer Center, a comprehensive and clinically integrated cancer care program in San Diego that will provide adult cancer patients greater access to the most advanced oncology care available throughout Southern California. Scripps MD Anderson Cancer is part of a global collaborative network of hospitals and health care systems dedicated to MD Anderson's mission to end cancer around the world.
Nearly 450 gala attendees filled the ballroom that was transformed by a Tree of Hope, which represented the hope, inspiration and courage of each patient as they navigate their own unique and individual cancer journey. Visit scripps.org.
• • •
The San Dieguito River Valley Conservancy received a $10,000 grant from REI to support Phase 3 of the River Path Del Mar.
The River Path provides a scenic overlook of the San Dieguito Lagoon and River, complete with interpretive signage of the flora and fauna of the river and lagoon. Phase 3 will extend the River Path from the Grand Avenue Overlook to the Crest Canyon Trail, along the San Dieguito River, enabling users to eventually reach the Pacific Ocean via the Crest Canyon Trail leading to the Torrey Pines State Natural Reserve.
Phase 3 of the River Path is 0.5 miles long and will cost from $720,000 to $1.4 million, and will take 18 months to complete.
The City of Del Mar will be leading the environmental review process under the California Environmental Quality Act and obtaining permits from the California Coastal Commission and the State Department of Fish and Wildlife.
SDRVC Executive Director, Trish Boaz, said: "REI has been a long-time supporter of our efforts to provide trails for the San Dieguito River Valley, and we are truly appreciative of their generosity."
Including the recent grant for Phase 3, REIs total support of the SDRVC from 2015 until now is $85,000.
Visit sdrvc.org.
• • •
For the 12th year, The SUHI Foundation announced that it awarded scholarships to students at Sweetwater High School. Twenty-five scholarships were presented to the Class of 2018 graduating seniors, a record-breaking $106,000. The scholarships range from $500 to $20,000, including those which are payable over four years. The SUHI Foundation also administers the scholarship program of its close partner, the Morgan Family Foundation, which awarded 24 scholarships for an additional $208,000. The Morgan Family Foundation awarded a full cost-of-attendance scholarship, with an estimated value of $230,000, to one student who will be attending the University of Colorado at Boulder. This scholarship was first awarded in 2005, and since then, the Morgan Family Foundation has continued to support multiple SUHI Scholars. Visit thesuhifoundation.org and morganfamilyfoundation.org.
Send Kudos/Giving items to
sglidden@sdjb.com.