Most Admired CEO 2018 - Small Privately-Held Company: Kyle Slager, Founder and CEO, Raken
Friday, June 15, 2018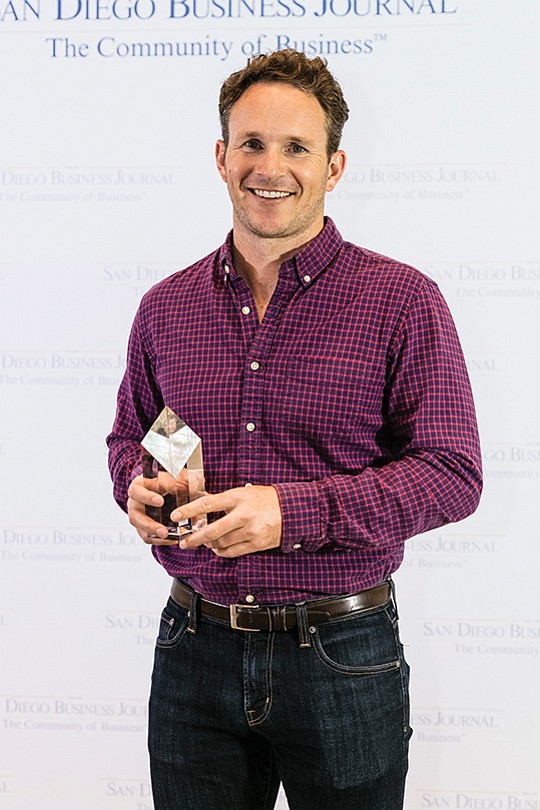 San Diego — Carlsbad-based mobile field management company Raken has nearly tripled its presence around the world in the past year. A leading reason for the impressive growth is co-founder and CEO Kyle Slager's attention to feedback.
Raken is changing the way construction companies account for hours worked, cost codes and project insight using industry-specific mobile apps and has roughly doubled its workforce from about 25 employees to more than 50 in the past year. Slager has also expanded Raken's global presence from 13 countries to 38.
In recognition of his stellar year, the Brown University alum was named the San Diego Business Journal's 2018 Most Admired CEO in the small privately-held company category.
To be a great CEO, one needs "unconditional service to your customers and your team," Slager said. "Build a tribe of people that share your vision and that empower each other to execute a plan to make the shared vision a reality."
Second Company
Prior to founding Raken in 2014, Slager co-founded the Acacia Care Network, a holistic health solution for the aging population which later partnered with Pfizer. Prior to Acacia, Kyle worked as a research analyst with the global value-based investment management firm Brandes Investment Partners, which is based in San Diego.
One of the biggest challenges Slager has faced as CEO of Raken has been growing a team that fits the ideal business culture while also growing the business.
"I quickly realized I can only get so far by myself and for my dream to become a reality I needed to find a lot more people that shared my dream," Slager said. "In the early days, people are taking an incredible risk in leaving stable high-paying jobs to join you. They have to believe not only in your vision but that you can lead the way to get there."
Big Opportunities
Raken is among companies innovating in what the industry calls "daily reporting." Their customers include Clark Construction, AECOM, Skanska, Whiting-Turner and Hensel Phelps. Analysts have estimated the value of the construction software industry at about $7 billion.
Raken earlier this month announced it has raised $10 million in investment capital to fund expansion of their product line and the development of additional areas, such as materials tracking and safety training.
Listening to Customers
For Slager, the payoff has been far greater than the financial successes. He said "hands down" the positive customer feedback has been among his biggest triumphs.
"I walked a job site with one of our clients recently and I asked him if Raken has been valuable for him and his company," Slager said. "He stopped walking, looked me in the eye and said, 'In my 30 years of construction, Raken is the most valuable tool our company has ever used.' You can only accomplish that milestone by having a team that is more in love with their customers than their product, providing real value versus bells and whistles.  
"Our mission is to be the No. 1 solution for the construction field, and we have built an incredible team that is dedicated to that mission. So to get that feedback from one of the leading construction companies in the country is an incredible feeling."