Most Admired CEO 2018 - Nonprofit Business: Joseph Panetta, President, CEO and Board Member, Biocom
Friday, June 15, 2018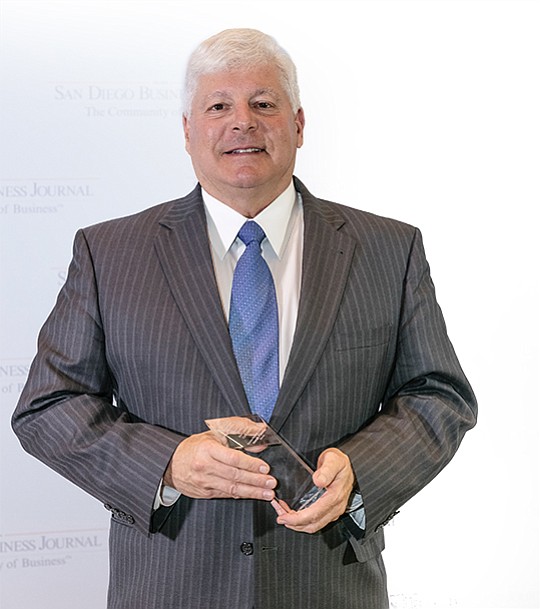 San Diego — Like the life-changing products developed by San Diego's robust life science companies, the trade group that fights for them has been developed and polished over time thanks, in part, to its CEO Joseph Panetta.
Panetta joined Biocom as its president and CEO in 1999. At the time, the organization had just six employees, annual revenues of about $500,000 and 200 members in San Diego. Today, Biocom is a $10 million business that employs 50 people in San Diego, Los Angeles, San Francisco and Tokyo, and its membership exceeds 1,000.
David Hale, chairman and CEO of Hale BioPharma Ventures LLC, was involved in the hiring of Panetta to lead Biocom.
"Joe has done a great job of building on the base of the organization at the time he joined, to make Biocom the preeminent state organization supporting the life science industry," Hale said. "He has been a great advocate for the industry, and he led the organization in dealing with legislation which would impact the industry negatively at the local, state, and national levels."
Panetta's efforts led him to be named the 2018 Most Admired CEO in the business nonprofit category by the San Diego Business Journal.
For Panetta, working closely with other CEOs has proven most beneficial to his own growth.
"They share many common attributes," he said of the CEOs he has worked with. "First they are visionaries who are not afraid to take calculated risks, and (they) are competent at assessing risk versus reward."
One thing they all have in common, Panetta said, was that they "attack achieving success by building a team of competent people around them and giving them the latitude to do their jobs as they best are suited to and have the expertise to do."
Recognizing Achievement
It is also important for CEOs to be ready to give advice, counsel and consistent recognition of accomplishments.
"Great CEOs challenge everyone around them to work hard and work double hard when the need exists to do so," Panetta said. "Great CEOs take the time to care about their employees and their families."
According to Panetta, the life science industry faces many challenges on a day-to-day basis and in the longer term, and it is his job to work to ensure the success of Biocom's members.
"One of the biggest challenges that I face up to continually is explaining to elected officials, the media and the public the value of prescription medicines and medical devices, because so much of the focus on their side is on the high cost of these therapies and devices," Panetta said. "All of us who work in this industry are passionate about delivering products to the public that improve health and quality of life."
Developing Talent
Another significant challenge is working to ensure schools support the development of future scientists, which is why Panetta serves on advisory boards at UC San Diego, San Diego State University, Cal State University San Marcos and National University.
"This is a big challenge here in San Diego because much of our higher-level life-science talent must come from other locations," Panetta said. "My big challenge is to go to locations around the world to promote San Diego over such competitive places as Boston and San Francisco."
In addition to leading Biocom and other related life science activities, Panetta serves on the boards of directors of the San Diego Regional Economic Development Corporation, the San Diego Regional Chamber of Commerce and CONNECT.