Most Admired CEO 2018 - Large Privately-Held Company: Doug Winter, Co-Founder and CEO, Seismic
Friday, June 15, 2018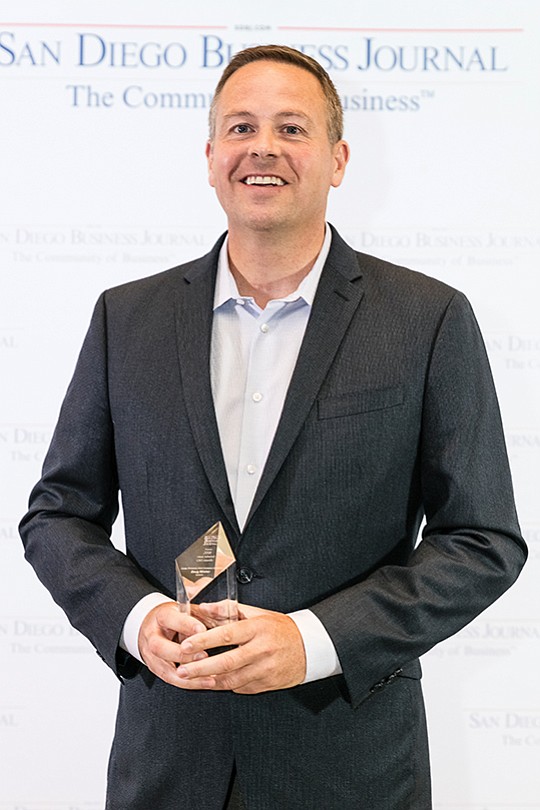 San Diego — Doug Winter co-founded a software startup, Seismic, in San Diego in 2010, and he hasn't looked back since. Over the past eight years, the company has grown from its original five employees to 450 employees, and it's still growing. By the end of this year, Winter expects annual revenue to top $100 million for the first time.
"It's growing fast. It's a lot of fun, it's a crazy time," said Winter, who added another feather to his cap on June 7 when he was named Most Admired CEO for large, privately-held companies at an event sponsored by the San Diego Business Journal.
In 2017, Seismic nearly doubled its annual revenue and moved into larger offices for its San Diego headquarters, as well as its offices in San Francisco, Chicago and New York. It recently entered the global marketplace with a presence in Sydney, Australia.
Seismic is now the dominant player in its space of sales enablement solutions. Seismic's software helps companies organize and manage the content their sales teams need to do their jobs, delivering that content to wherever they are and to whatever type of device they are using.
Workplace Culture
Besides growing his company, Winter said, he's most proud of the team he has assembled and a workplace culture where employees appreciate each other's support.
"I think the thing that permeates our culture, that I'm most proud of, is that people celebrate each other's success," he said. As an example, he said, when a new sale is closed, whether it's large or small, the sales person sends out an email recognizing those within the company who helped make the deal possible.
That heartfelt gratitude among employees, he said, is "a key part of our being successful."
Marc Romano, CTO and co-founder, said, "I've worked with Doug for 15 years across three different companies. What has always impressed me most about him is how much he invests in his team, whether that's a group of five like when we started Seismic in 2010 or 450 as we stand today. His philosophy is to bring in the best people, give them everything they need to succeed, and then make sure every single person understands how they contribute to the team's overall success. That's what, I believe, has made him one of the top CEOs in the enterprise software industry and a major reason why Seismic is where it is today."
Hands-On Work
As for his own management style, Winter said he favors transparency and being a straight shooter with his work colleagues. He's also not afraid to take on tasks – whether it's trouble-shooting with product developers or meeting with customers – that some might find less than glamorous.
"I like to get my hands dirty, and roll my sleeves up," he said. "It sends a message that none of us are above doing anything, that good ideas can come from anywhere."
Winter, 50, who has spent his career building software products, is also experienced at starting and managing companies. Previous to launching Seismic, Winter started Objectiva Software Solutions in 2001 and grew the company to $5 million in annual revenue before it was acquired by Document Sciences in 2004.
Going forward, said Winter, he wants to keep growing the company both in its San Diego headquarters and beyond, and hopes to see the workforce reach 1,000 employees.
"I'm excited I was recognized, it was humbling," Winter said, "but I very much feel like we're just getting going."