Most Admired CEO 2018 - Community Service Award: Foundation Executive Has Grown Along With Organization
Friday, June 15, 2018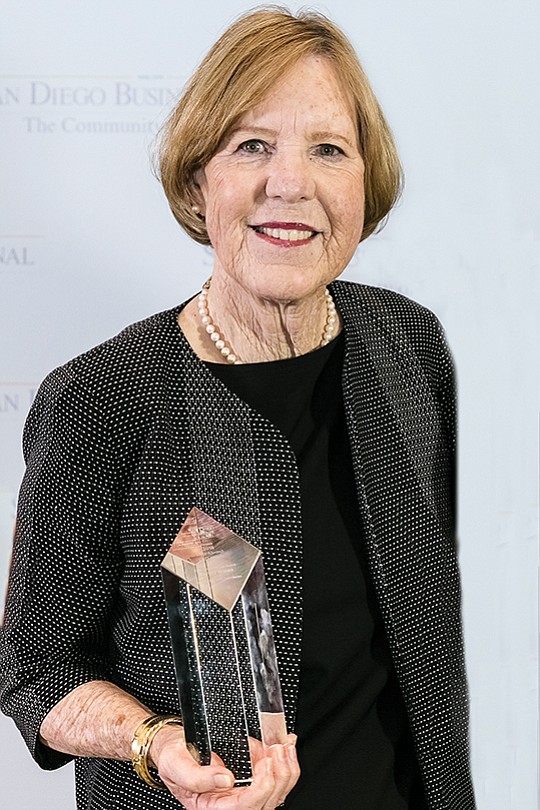 San Diego — Longtime Rancho Santa Fe Foundation CEO Christy Wilson knows more than a thing or two about the community service sector, having helped raise $73-plus million in grants over the past two decades. But the homegrown executive is humble enough to give credit where credit is due.
"When I was hired 21 years ago, I had never run a nonprofit and I certainly did not understand how a community foundation could effectively function in our community," Wilson said. "From the beginning, I have been fortunate to have dedicated directors and donors, as well as professional colleagues, who have been extraordinarily generous with their time and expertise to help me learn what I needed to know."
When Wilson joined the Rancho Santa Fe Foundation in 1997, she was their first fulltime executive director, the organization did not have an office and it had total assets of about $1 million. Now it has a staff of seven and more than $120 million in assets.
For her efforts, Wilson was named the San Diego Business Journal's 2018 Most Admired CEO Award of Distinction for Community Service.
Leadership Challenges
Good CEOs understands the responsibility that comes with the job, according to Wilson.
"They must lead with humility, vision, confidence and a commitment to bring others along behind them," she said. "A good CEO must 'lean in' to do their work and be present at all times, while being mindful of the need to nurture their spirit – both mind and body – outside of the work place. This is a concept that I struggle with every day, so it is not easy to do."
Her duties include leading the development function and creating philanthropic and leadership opportunities in the San Diego County region.
Under her guidance, the foundation has created the Rancho Santa Fe Women's Fund, which since 2004 has granted more than $3 million to more than 100 nonprofit organizations. Wilson also helped launch the foundation's Patriots Connection in 2007, which is focused on raising awareness of the needs of the military in San Diego County.
Double Bottom Line
"Although I have not recently worked in the for-profit sector, one of the most unique differences is that for a nonprofit CEO, we have to account for a 'double-bottom line,' that is accounting for a profit-loss measure as well as a social impact measure," Wilson said. "The implications of this are that the community depends on us to deploy funds and focus on social impact and improving lives, while operating with little or no profit. This is increasingly difficult to do as resources are insufficient to meet the demand."
In addition to her foundation work, Wilson serves as adjunct faculty in the School of Leadership and Education Sciences at the University of San Diego, where she previously earned her master's degree. Prior to USD, Wilson received her bachelor's degree from the University of California, Davis.
The Encinitas resident and married mother of two adult children was born in West Virginia but raised in Rancho Santa Fe. Her hobbies include reading, gardening and traveling.