Higher Density Model Part of Affordable Housing Solution
Tuesday, June 12, 2018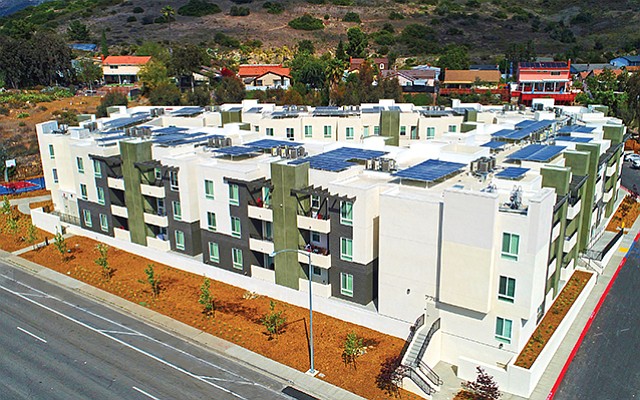 San Diego — An outdated Mission Gorge strip shopping center has been replaced by an 89-unit affordable housing complex.
Built by Chelsea Investment Corp. in conjunction with the San Diego Housing Commission, the $33.5 million Mesa Verde apartment complex at 7785 Mission Gorge Road has three studio apartments, 24 one-bedroom apartments, 36 two-bedroom apartments and 26 three-bedroom apartments.
The apartments range in size from 412 square feet to 971 square feet.
Monthly rents range from $800 to $1,420.
Amenities in the 89,737 square-foot complex include a basketball court, community room, laundry room, underground parking and an on-site manager.
"Demolishing an older strip mall and replacing it with affordable housing for families is a win-win for the community," said Chelsea Investment Corp. CEO Jim Schmid. "This is a redevelopment model that can be replicated in parts of San Diego where higher density is appropriate."
Under the terms of the financing through the Housing Commission, the apartments will be designated as affordable for 55 years.
To qualify for the apartment, renters can make no more than 60 percent of San Diego's median income, which is about $58,380 for a family of four.
There's already a waiting list of about 2,530 people for the complex.
"It's finally gotten to a point where we are realizing housing and the lack of housing is of dire importance to this city," said City Councilman Scott Sherman, whose district includes the new housing complex.
"I can't remember a time when the need has been as great as it is today," said Housing Commission Chairman Frank Utasun.