TOURISM: BEACH GAMES GIVE SOMETHING TO BUILD ON
More Victories Needed to Establish San Diego's Sports Cred
Monday, June 11, 2018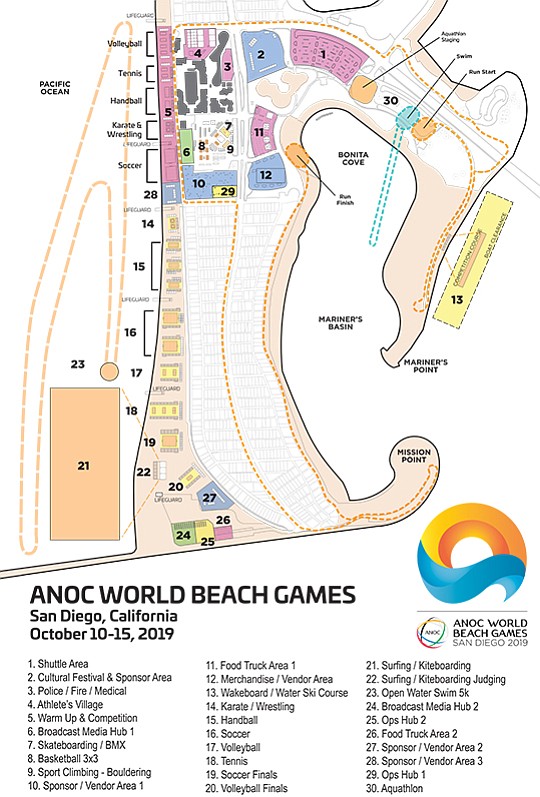 San Diego — Earlier this year, the Associated Press crowned San Diego the worst sports city in the country. But local groups like the San Diego Tourism Authority and the San Diego Sports Commission say the city shouldn't be counted out just yet.
The city will host the inaugural Association of National Olympic Committees (ANOC) World Beach Games October 2019, which was recently announced by San Diego Exploratory Foundation chairman Vincent Mudd and other officials.
No State-of-the-Art Stadium
A town that once boasted an NFL team — the Chargers left for Los Angeles last year after failing to get public support for a new stadium — and is still home to MLB's San Diego Padres is increasingly banking on a variety of large sporting events and minor-league teams to continue to drive its booming hospitality and tourism sectors. But minus a state-of-the-art stadium, it will not be home to the highest profile professional and major college spectator sports events such as the Super Bowl, World Cup or collegiate national championship games in basketball and football.

The Beach Games are expected to attract about 1,300 athletes representing more than 200 countries and playing in 15 sports and 17 disciplines. The budget for the games is $39 million.
"This will probably be the largest delegation of international visitors that we ever had, and that includes the World fair (Panama-California Exposition) 101 years ago," said Mudd, a longtime civic leader and managing partner and principal at architecture firm Carrier Johnson + Culture.
"The economic impact is clearly exponential. We are hosting the general assembly which will include all 206 countries, Olympic representatives and the International Sports Federations. The entire Hyatt has been booked for the general assembly, so, that will be thousands and thousands of rooms reserved for those nights. That obviously doesn't even count the economic impact of the athletes and the spectators, from the US and Mexico as well as all of the other participating countries."
Said Mike McDowell of the San Diego Sports Commission: "These games are a big deal to San Diego, with long-term ramifications for hosting other national and international games. San Diego will be positioned to attract several similar events well into the future, all bringing significant economic impact.
"This provides major economic impact in ways the Chargers never did (except for an occasional Super Bowl)."
Big Events
The city has been host to many international sports events over the years — though not with regular frequency except for international soccer matches. The Breeders' Cup World Championships were held at Del Mar in 2017. The America's Cup sailing event was held here in 1988, 1992 and 1995. The U.S. Open golf tournament was at Torrey Pines in 2008 and is returning in 2021. There have been the occasional special events, such as the World Baseball Classic, world rugby games, surfing championships and Red Bull air races.
The economic impact for the Breeders' Cup was nearly $84 million, according to Candice Eley, director of communications for the San Diego Tourism Authority.
Minus the Chargers, the annual calendar includes the Padres and the Farmers Open PGA Tour stop, the Rock 'n' Roll Marathon, The San Diego County Credit Union Holiday Bowl and international soccer matches.
Minor League Sports
The biggest growth area in the sports ecosystem has been minor league sports, with four new teams in the picture.
San Diego is getting a football team in the new eight-city Alliance of American Football. The proposed 1904 FC club has announced it will play in the second-
division United Soccer League beginning in 2019. A pro lacrosse team dubbed the San Diego Seals and owned by part-time La Jolla billionaire Joseph Tsai plans to begin play at the Valley View Casino Center in November. The San Diego Legion, a 26-player rugby team that kicked-off its inaugural season this year and played its first home game at University of San Diego's Torero Stadium on April 29.
Other home teams include the San Diego Sockers (indoor soccer) and the San Diego Gulls, who led minor league hockey in attendance this past season with an average of 9,305.
Getting Noticed
As a result of playing host for the ANOC World Beach Games, Mudd says some of the other sports and other countries that aren't participating have accepted San Diego's invitation to host their championship games in town. In March, the Pan-American World Beach Handball championship games were held in Oceanside. In October, San Diego will host the World Beach Soccer Cup for the first time. "We are fulfilling our promise, which was to get San Diego exposed on a global market and place it as a center for high performance sports," said Mudd.
And, there are other championship games in negotiations right now, like the three-on-three wheelchair basketball championship, the World Foot Volley competition, E games competition and, finally, a return of the Pan-American Beach Handball championship. As of press time, there are five other games near contract, for a total of around "nine to 12 of them before the ANOC World Beach Games," said Mudd, all adding to the total revenue the games will bring.
"San Diego's natural environment, year-round mild weather and diversity of venues make the destination the ideal place for these sorts of big events," said Eley. "San Diego's landscape provides a number of natural venues, especially when it comes to beach and water sports. And with Petco Park, plus a number of local universities and more unconventional venues, there's a lot of flexibility and options for event planners."
Economic Impact
A projected economic impact of the ANOC World Games wasn't immediately available. A 2016 San Diego State University Payne School of Hospitality and Tourism Management study dubbed the "Economic Impact of College Bowl Games," which measured the impact of 41 post-season college football teams, found that the 2015 Holiday Bowl brought in $17.2 million and the Poinsettia Bowl $6.4 million. This analysis didn't include travel expenses or game tickets.
"We defined it as money that comes into the local economy that wouldn't have come into it otherwise," Mark Testa, professor in SDSU's School of HTM, said in a press release at the time. "The findings were very consistent and show that there is a significant economic impact on host cities, especially where the bigger games are played."
The Transplant Factor
Another factor bolstering San Diego's case for remaining a sports town is that most residents are transplants with no attachment to local teams and thus possibly more open to attending and viewing sporting events that don't include their hometown team or their sport of choice. According to a 2016 study on talent migration conducted by the San Diego Regional Economic Development Corp., the region added 161,000 migrants from 2013 to 2014. Of those migrants, 41,710 moved from another state and 28,391 moved from another county in California.
In line with its mushrooming growth into a sports town, dueling initiatives on the November ballot, San Diego could bring a new stadium where the old Qualcomm now stands, and possibly a Major League Soccer team into the mix.