Developer Sees Good Location in Bankers Hill for Building Legacy
Thursday, June 7, 2018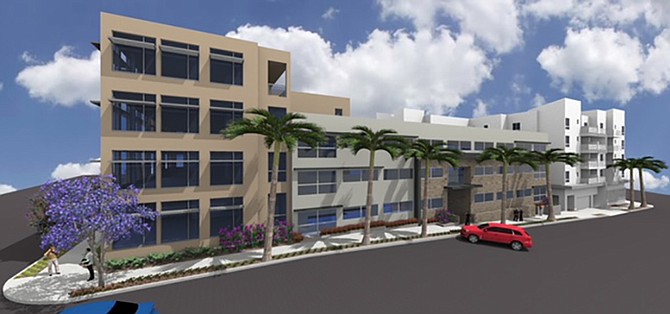 San Diego — A chunk of Bankers Hill, including the building that once housed The Daily Transcript, is being redeveloped by Tim Foley of Rancho Santa Fe.
Foley said he retired in 2010 but came out of retirement two years ago and restarted Foley Development when two of his three children expressed interest in becoming developers themselves.
To help teach them the business, Foley acquired several pieces of property, starting with the former Daily Transcript building and adjacent sites.
"I was looking for projects in Bankers Hill where I could build units and additional office space simply because of the demand," Foley said. "There's a huge demand for office space downtown."
Although Bankers Hill is not in the heart of downtown San Diego, Foley considers it to be part of the greater downtown area in marketing his projects.
The original Daily Transcript closed in 2015, but its name and masthead were purchased by the Daily Journal Corp. based in Los Angeles
The Daily Journal Corp. didn't buy the newspaper company itself or the Daily Transcript Building, but it did resume a publication using the Daily Transcript name.
Foley gutted the former newspaper building "all the way down to the studs," refinished the basement, installed larger windows, put in a new entrance to get four full floors of leasable space, and redid the exterior.
"It looks like a new building," Foley said. "I bought that building just to remodel it. It was uninhabitable, in my opinion."
The redeveloped Daily Transcript building will be part of what Foley is calling the Foley Financial Center, a150,000-square-foot project that will take up the entire 2100 block of Third Avenue between Hawthorn and Ivy streets and half the 2100 block of Fourth Avenue.
It will include a new 21,000 square foot office building and 56 apartments with construction expected to be finished by early 2019.
Architects BP Associates is doing the work on the office portion of the project and Summa Architecture is handing the work on 99 residential units which Foley is building on three lots across the street totaling 17,000 square feet on the west side of Third Avenue.
In a related project, Foley is building what he's calling Foley Plaza at Bankers Hill — a ground-up mixed-use development on the 1800 block of Fifth Avenue that will include 30 luxury apartments and 5,000 square feet of commercial space.
Foley estimated that his Bankers Hill development will cost about $43 million.
"I really want to get it out that Foley's back," Foley said. "I want my kids to see these coming out of the ground."
Correction: Due to incorrect information provided to The San Diego Business Journal, the name of the architect in the original story was incorrect. The firm is Architects BP Associates.