SD 500 Update: Manchester, EDC Draw Big Crowds
Wednesday, June 6, 2018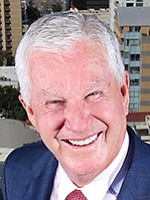 San Diego — Doug Manchester had plenty of company from the San Diego 500 at the groundbreaking for the $1.5 billion Manchester Pacific Gateway project, the largest development of its kind in city history. The 12-acre project,12 years in the making so far, will cover eight city blocks at the waterfront and contain seven buildings.
The speakers included Manchester, retired Rear Admiral Len Hering and Rear Admiral Yancy B. Lindsey of Navy Region Southwest.
Others in attendance included project manager Perry Dealy of Dealy Development Inc. and civic leaders Randy Bogle of the San Diego Military Advisory Council and Randa Coniglio of the Port of San Diego, just to name three. There were many others.
• • •
Despite its many dignitaries, the groundbreaking was a distant second in terms of SD 500 attendance to the night before at the annual dinner for the San Diego Regional EDC. CEO Mark Cafferty and COO Lauree Sahba were technically working, but center stage went to Janice Brown, founder of the Brown Law Group, who was installed as board chair, and Mary Walshok of UC San Diego Extension, who was given the Herb Klein Civic Leadership Award.
• • •
Regina Bernal, the Entrepreneurship Manager at the University of San Diego's School of Business, has earned a Master's of Science in Executive Leadership. Bernal leads the school's growing entrepreneurial efforts and growing cross-border connections in Mexico, Central America and South America.
The USD leadership program is conducted in partnership with The Ken Blanchard Cos. and SD 500 icon Ken Blanchard.
• • •
ResMed founder and chairman Peter Farrell has joined the board of Arcturus Therapeutics. Farrell was one of four new board members to come on board as part of a settlement with CEO Joseph E. Payne over control of the company.
Farrell also is on the board of trustees of The Scripps Research Institute in La Jolla.