PROPERTY: STARTUP AND FOOD SCENE JOIN MULTIFAMILY IN DRIVING MORE DEVELOPMENT
Office, Multifamily and Even Retail in Demand Downtown
Monday, June 4, 2018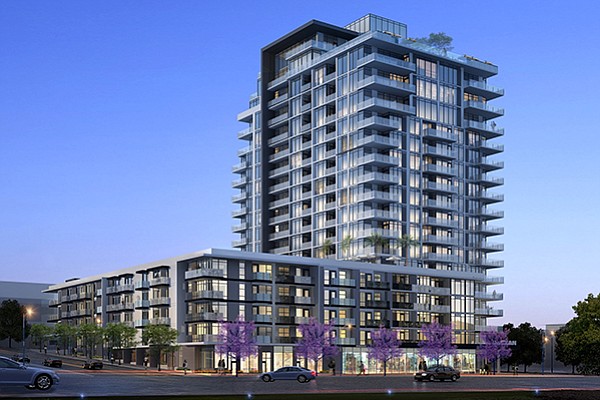 San Diego — Downtown San Diego's commercial real estate market was booming in the first quarter of this year, building on a trend that shows few signs of easing.
New office, apartment, condominium and hotel projects continue to sprout up.
"I'm very optimistic and bullish on downtown," said Bess Wakeman, executive vice president of JLL in San Diego.
"I like the assets that are downtown. I like the ownership downtown. It's not just government and law firms. It's a really robust mix of tenants," Wakeman said.
Adding to the surge of activity was the June 1 groundbreaking for the $1.5 billion Manchester Pacific Gateway, a project that will remake a 12-acre stretch of the downtown waterfront bounded by Broadway, Pacific Highway and Harbor Drive. It will include a mix of office towers, hotels, retail shops and a new headquarters building for the U.S. Navy.
"That's going to be just huge for downtown," Wakeman said. "We haven't seen that level of project come online anywhere in the county."
Dynamic Downtown
Derek Hulse, managing director of Cushman & Wakefield's San Diego offices, said, "Downtown is dynamic right now due to the influx of residents and new multifamily development, the general urban revitalization and the burgeoning restaurant scene."
"People, especially the young educated workforce, want to be a part of a vibrant community where you have access to the bay, sports entertainment, theater, amenities, retail, and restaurants," said Hulse, who specializes in downtown property.
According to Cushman & Wakefield, about 35,550 people live downtown, and 40 percent of them are Gen X and millennials.
Number One Area for Startups
Downtown is the number one area for startups in the region, with about 110 tech and innovation startups in the first quarter of 2018, Cushman & Wakefield reported.
About 550,420 square feet of new office space was under construction in the first quarter, of which nearly 60,000 square feet was preleased, the company said.
Over the next 36 months, there is the potential for up to 1 million square feet of new and renovated Class A office space, Hulse said.
The downtown demand for office space is partly reflected by rising rents, with the rents landlords are seeking rising by 4.6 percent over the past 12 months, Hulse said.
Direct vacancy, which is a measure of space that's available for lease, dropped slightly from 11.1 percent in the fourth quarter of 2017 to 10.9 percent in the first quarter of 2018, according to Cushman & Wakefield.
Prev Next