RETAIL: SHE WON'T PURSUE BIG-BOX VENUE, PREFERS BOUTIQUES
Jewelry Designer's Brush With Royalty Doesn't Change Her Plans
Monday, June 4, 2018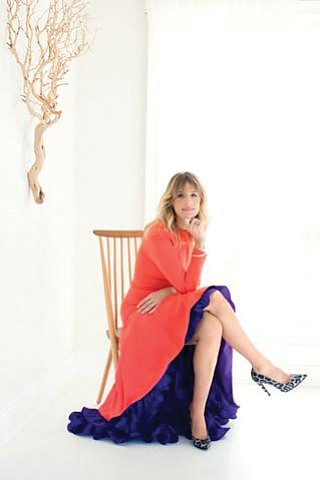 San Diego — Although Lisette Polny has accepted her newfound fame after making headlines recently for designing the bridesmaids' keepsakes for Meghan Markle and Prince Harry's royal wedding, the Encinitas-based jewelry designer doesn't plan to sell in big-box stores any time soon.
"I won't sell to department stores," said Polny, whose company is named Zofia Day after her 4-year-old daughter. "This connection with Meghan has really exposed my brand and has been really overwhelming. But, I am not looking to be in every major department store and I'm also not looking to be a million-dollar brand."
Despite being approached by Bloomingdale's after her design of the Kensington bracelet was revealed, her plan is to continue to build her relationship with boutiques, including the 20 retailers she already works with, as well as her private clientele and all the old and new customers she's gained by way of the Zofia Day website. Since the highly viewed nuptials, sales on the site have increased by almost 200 percent, according to Polny, following almost 600 orders and counting of the Kensington, which retails at $450.
Polny, who is a longtime friend of one of Markle's best friends, Benita Litt, of Los Angeles, has never met Markle, but took inspiration for the 14-carat gold bracelet she designed for the six bridesmaids from Markle's love story with Prince Harry.
Already Successful
Part of the reason Polny doesn't care to venture beyond boutiques is because, by her standards, her company was successful before the Markle connection, thanks to the business acumen she gained during her 20-year run in the world of fashion prior to founding Zofia Day in 2014. Her most recent role was as director of merchandising at Three Dots clothing.
"My company has been profitable nearly from the get-go," Polny said, adding that her strategy has been to "maintain low overhead, budgeting in ways that would allow me to get a return on my investment without spending tons of money, spending money on things that make me money, and working hard to sell the jewelry I create." Polny also keeps up-to-date and organized bookkeeping and implements cost-effective marketing plans. Additionally, she does all the public relations for Zofia Day in order to make sure every campaign surrounding the company is in line with her aesthetic.
Polny, who has been a one-woman team since the launch of Zofia Day and works from an at-home design studio, recently hired a part-time stay-at-home mom/neighbor with a knack for administrative work to help her tally up the orders for a finalized count on the Kensington bracelet and keep up with the demand. While she's never fulfilled such a big order, she isn't worried. She counts on makers both in Los Angeles and overseas that are "beyond ethical and beyond capable."
Philanthropic Side
Next, Polny, who is big into philanthropic work and donates to St. Jude Children's Research Hospital and local San Diego preschools, among others, is hoping to contribute part of the proceeds from the Kensington bracelet to a charity of the royal couple's choice. "Anywhere I can give back, I do," she said. "It's not because it's a tax write-off, it's because I really work from my heart."
In the end, Polny just wants to stay true to her vision of creating timeless pieces that are "subtle yet make a statement" without compromising her integrity and respecting her loyal following.
"I'm not a millionaire and I'm not in a lot of stores, but, that is by choice," she said. "This connection to Meghan has really exposed my brand and that has been overwhelming. I don't know if I truly manifested that happening, but, it did, so, I'm trying to embrace it while staying true to myself."