AG: CUTS COST, UPS SPEED WHILE AVOIDING CONCERNS
Cibus' Genetic Editing Aims to Outdo GMO
Tuesday, July 31, 2018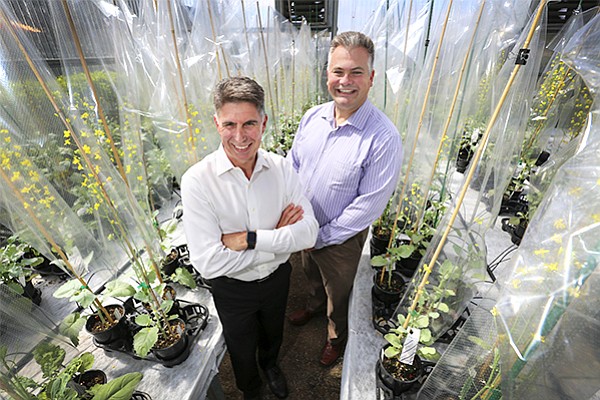 San Diego — The alteration of one letter to another in a word can change its entire meaning.
That's the concept behind the technology developed by Sorrento Valley-based biotechnology company Cibus Global Ltd., which has created a platform that it is using to change the nucleotides in the genetic code of plants.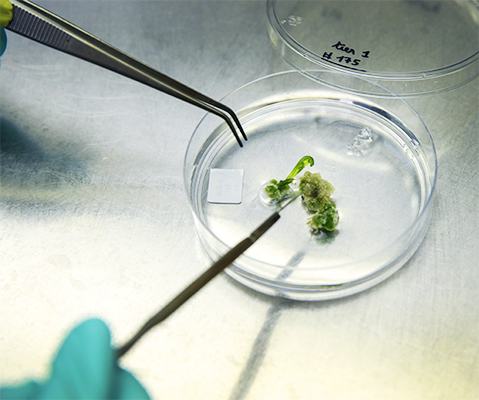 CIBUS GLOBAL LTD.
CEO: Peter Beetham
Funds raised: About $200 million
No. of local employees: About 100
Investors: Fidelity Management & Research Co., Alexandria Venture Investments, Cormorant Asset Management
Headquarters: Sorrento Valley
Year founded: 2001
Company description: Agriculture biotechnology company developing crops with "edited" genomes and traits such as resistance to some insects and chemicals.
Macro trends such as population growth, changing diets and sustainability initiatives have farms looking for innovative ways to improve efficiency. Cibus, which does all its research and development in San Diego, and has offices in Minnesota, the Netherlands and Canada, recently raised $70 million in a Series C funding round, giving it the cash it needs to move toward large-scale commercialization of its first product, herbicide-resistant canola.
Cibus is part of the growing agricultural technology, or agtech, industry. Financing deals in the sector picked up considerably following Monsanto's acquisition of farm data and analytics platform Climate Corp. for nearly $1 billion in 2013. That year CB Insights tracked 17 deals; the following, it recorded 46. Since 2015, agtech companies have received more than $1 billion in venture capital and private equity investment yearly, according to PitchBook.
Not GMO
Founded as Cibus Genetics in 2001 by a dozen researchers from East Coast biotechnology company ValiGen, the business today is headed by president and CEO Peter Beetham, a member of that founding group.
"We had always hoped we could make multiple changes (to plant genes) routinely in a quick time frame," he said. "In the last three or four years of the company's life, that's what's happened. We've gotten to the point where the vision has come to fruition from a science standpoint."
The company's products are not considered genetically modified organisms, or GMOs, which incorporate DNA from other species. That's important, because plant GMOs, in the U.S., are regulated by the United States Department of Agriculture (USDA).
GMOs have been widely adopted in the U.S. — more than 90 percent of all corn, cotton and soybeans planted in the country in 2018 was genetically engineered to be resistant to insects, herbicides or both, according to the USDA — but have been rejected by some consumers, who don't trust the claims the modification won't affect human health. Other regions, including the European Union, have banned such modifications entirely. A handful of local governments in the U.S., primarily in Northern California, have banned cultivation of GMOs.
Beetham says Cibus doesn't think there is anything wrong with GMOs, but that gene editing is a better way to make superior plants because the process is more precise, cost-effective and more rapid.
Cibus' technology improves on the rate at which GMOs can be developed, which can take 10 or more years and cost about $130 million per trait, by an order of magnitude, Beetham said.
"We can do that in about one-tenth of that time and probably about a tenth of the cost," Beetham said. "And it's only getting faster." The Investors
Participants in its recent round of funding included Fidelity Management & Research Co., Alexandria Venture Investments and Cormorant Asset Management.
Beetham isn't the only member from the original core group of science leadership still with the company.
Greg Gocal, another member of the founding team, is Cibus' chief scientific officer. Christian Schopke remains as a senior research fellow. Mark Knuth, who also worked to develop the platform, is retired but continues to provide consulting.
Recently Cibus has added executives with years at the big four agricultural companies on their resumés to its leadership team.
"Our challenge now is not so much on the front end, taking that single cell to a whole plant with new characteristics, it's making sure you have that product development phase — making sure your product concept is right, understanding the value in that market and which markets you go into," Beetham said.
Kay Kuenker joined Cibus as executive vice president of strategy in 2016 after nearly 30 years with the Dow Chemical Co.
Senior vice president of commercial development Bradley Castanho, who spent 20 years doing sales and marketing, commercial development and research for Monsanto, was also added in 2016.
In 2017, Cibus brought on Dave Sippell, who spent years at Syngenta, to handle the company's Canadian operations.
Nearly all M&A in the agtech space has come from large agribusiness companies, according to CB Insights data.
In May the company hired Jim Hinrichs as its CFO. Previously he was CFO of biotech Alere Inc., which sold to Abbott Laboratories for $5.3 billion in 2017. Prior to that Hinrichs was CFO of San Diego biomedical equipment maker CareFusion Corp., acquired by Becton Dickinson & Co. for $12.2 billion in 2015.
Cibus, which has raised about $200 million, first started making money — albeit not very much, Beetham said — in 2015.
Commercialization in Full Swing
Cibus calls its platform for producing new crops its Rapid Trait Development System.
With commercialization now in full swing, Beetham anticipates reaching break-even in 2021 or 2022. In addition to canola, flax, rice and potato, in the next decade Cibus plans to also develop traits in wheat, corn and soy crops.
"I've always looked back historically at (agriculture), and there's a number of points where you see major change," Beetham said. "We had the 'green revolution' (in the 1950s and 1960s) … I think we're in the midst of another one."