Omniome Raises $60M Round
Monday, July 30, 2018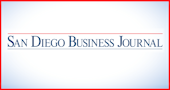 San Diego-based Omniome, maker of a DNA sequencing platform, today announced a $60 million series B round.
The company's platform seeks to broaden genomic sequencing, including advancing cancer diagnostics. Proceeds will be spent in part on hiring, building out research and production, optimizing its "sequencing by binding" technology and commercial development of its sequencing platform.
"We have been able to validate the tremendous power of our proprietary sequencing biochemistry. Now we are directing our efforts on product development to rapidly advance our first commercial instrument prototypes," said Dave Mullarkey, president and CEO, in a news release.
The funding round was led by Decheng Capital and Hillhouse Capital Group, joined by Lam Research Capital and Nan Fung Life Sciences, as well as existing investors Arch Venture Partners, Domain Associates, Biomatics Capital Partners and Altitude Life Science Ventures.
Omniome came out of San Diego-based startup incubator EvoNexus.