Liberty Call Distilling to Open Second Distillery in Barrio Logan
Sunday, July 29, 2018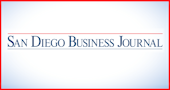 Liberty Call Distilling LLC. is scheduled to open a second location, a distillery and restaurant dubbed Liberty Call Distilling Kitchen, in Barrio Logan. The venue, a 3,000-square-foot indoor area and a 400-square-foot patio, is set to open spring 2019.
"We really like the energy and vibe that you feel when you walk around Barrio Logan. It has a cool artistic and industrial feel, with a great Hispanic heritage," said Liberty Call Distilling founder Bill Rogers. "Barrio Logan embodies everything San Diegan, and that's something we want to be a part of."
Spearheaded by culinary expert and farm-to-table chef Miguel Valdez, the restaurant will offer tapas via counter service and a full-service bar that will include Liberty Call's single malt whiskey, bourbon, gin and white and spiced rum, as well as signature cocktails by head bartender Albert Allison.
The open floor plan, which seats about 60 guests, is designed by Hurkes Harris Design Associates Inc., who also designed The Local and OB Surf Lodge, and will showcase a working distillery through a glass partition and a large roll-up door that opens to the patio.
"We've been trying to find a spot for our expansion for ten months and haven't been able to find one spot where we could do everything we want to do," said Rogers. "We want a world-class tasting room with food and drinks, and to be able to expand our reach throughout the western United States. The Barrio Logan kitchen will be our tasting room, while our growing Spring Valley space will produce more product. We are investing close to one million dollars within the next year for these two expansions, without having to sell any ownership in the distillery. It's our most ambitious plan yet, and we feel that we will outgrow both spots not long after they open."
Founded in 2013, Liberty Call Distilling, located in Spring Valley, will experience an expansion simultaneously. Mat Brady, formerly at BNS Brewing & Distilling Co., is the newly-hired distiller.