IES Spinoff Targets Gig Economy
Thursday, July 26, 2018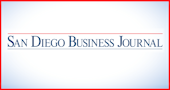 San Diego-based Innovative Employee Solutions announced on July 26 that it is spinning off a business called Fulcrum.
Fulcrum's software platform connects large, Fortune 1,000 employers with top online "gig economy" and freelance talent providers while maintaining full compliance with applicable laws.
The business describes its offering as a first-of-its-kind product.
Innovative Employee Solutions (IES) will be Fulcrum's lead U.S. compliance and payroll vendor.
Fulcrum CEO Trevor Foster co-founded the new company with Sean Ring and Tyson McDowell. Foster and Ring are former IES employees.
IES is a nationwide provider of outsourced payroll and human resources administration services. As the employer of record, IES manages the payroll, payroll taxes, benefits and HR administration for clients, specializing in the contingent workforce. IES is a woman-owned business.