Retail Centers Continue Their High-End Makeovers
Wednesday, July 25, 2018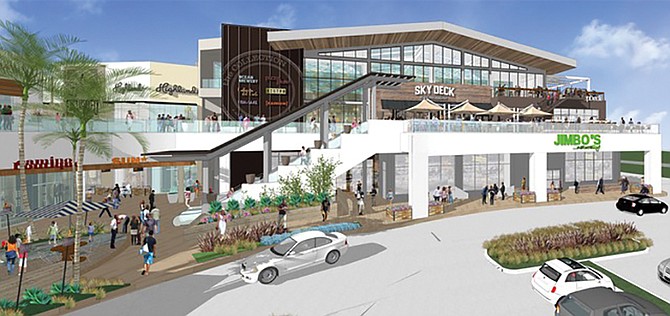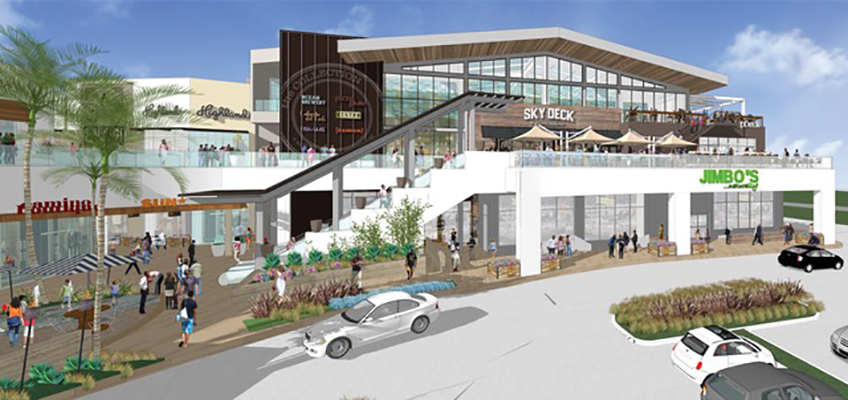 San Diego — San Diego County retail centers continue to expand despite conventional wisdom that says retail is hurting as shoppers turn to their computers instead of taking a trip to the store.
Del Mar Highlands Town Center in Carmel Valley is midway through a $120 million expansion in the same neighborhood where Kilroy Realty Corp. is building the 23-acre One Paseo development that will include 93,000 square feet of retail space.
Kilroy Realty recently signed up its first four retail tenants — SoulCycle, an indoor cycling studio; Whiskey x Leather, an antique and specialty shop; West of Camden, a clothing store; and Van De Vort, a women's boutique.
Del Mar Highlands, developed by Donahue Schriber Realty Group, is adding 120,000 square feet of retail space that will include an expanded Jimbo's…Naturally! grocery store and what it calls "The Sky Deck" that will feature a cluster of several restaurants and outdoor space for people to gather.
"One of the biggest reasons that we're doing the Sky Deck is that there's really no major downtown in Carmel Valley. That's what we're creating in the Sky Deck," said Chris Elliott, vice president of acquisition and leasing for Donahue Schriber.
Farther south, Shea Properties announced that its mixed-use center, Mercado del Barrio in Barrio Logan, is expanding with the addition of two new restaurants and a brewery tasting room.
Attitude Brewing Company will bring a 22-tap tasting room to Mercado del Barrio, joining Maggie's Café and Dough Nation restaurants as the newcomers joining anchor tenant Northgate Market.
"Mercado del Barrio has become quite the mecca for amazing cuisine and craft beer," Lillian Kuo, senior vice president of Shea Properties, said in a statement.
"We have added so many great tenants to the mix, and we really believe the Mercado is becoming a true destination location for the area."
The expansion of Del Mar Highlands Town Center and Mercado del Barrio follow the $600 million expansion of Westfield UTC mall and the ongoing development of One Paseo.
Craig Killman, an executive vice president with JLL who specializes in retail property, said that reports of the internet killing retail are overblown.
"Brick-and-mortar is here to stay," Killman said. "While the internet has been very disruptive, it still only equates to 10 percent of retail sales."
Brick-and-mortar retailers have had to adapt their sales practices to take advantage of e-commerce, by allowing people to shop online and pick up what they buy in the store or go to the store to try on clothing — just generally make the shopping trip more of an adventure than a chore.
Del Mar Highlands is doing that by creating an environment that is what Killman called "very experiential."
"They want to fill the Del Mar Highlands Town Center with retailers that want to provide a positive experience to their customer, not just give their customer a commodity and get them in their car and drive away, because that kind of retailer is struggling," Killman said. "Those retailers are going to die a quick death."
The location of Del Mar Highlands in Carmel Valley also makes it a prime candidate for expansion because of the area's many office workers and affluent residents.
Killman said Carmel Valley has a daytime population of about 80,000 with about 75,000 full-time residents who have an average annual family income of about $162,000.
That give Del Mar Highlands a strong pool of likely customers, but Killman said the unresolved question is whether that pool is big enough to support both all the expansion and new retail development.
"The answer to that is time will tell," Killman said.
One Paseo, for one, will finish its retail portion before the Del Mar Highlands expansion is complete, Killman said.
Elliott of Donahue Schriber sees the expanded Del Mar Highlands and One Paseo as synergistic projects.
One Paseo will include 280,000 square feet of office space and 608 multifamily residential units, all of which will provide new shoppers and restaurant patrons.
"We're very happy about that," Elliott said.
In addition, Elliott said Alexandria Real Estate Equities Inc. is building a biotech campus adjacent to Del Mar Highlands.
"We're the amenity for their development," Elliott said.
Key among those amenities is the expanding Jimbos, an expanded KinderCare child care center that has relocated from another section in the shopping center, and an expanded Cinepolis which has gone from eight screens to 11.
As part of the expansion, an 812-space parking garage with charging stations for electric vehicles has just been finished, which will give the center a total of 2,279 parking spaces when the expansion is finished.
Donahue Schriber owns over 11.5 million square feet of space in shopping centers from San Diego to Seattle, and Elliott said that overall, about 97 percent of the space is leased.
The company sees the market for its shopping centers as "extremely strong," especially in Southern California and San Diego in particular.
"You don't have a lot of competition coming in," Elliott said.