Qualcomm Unveils 5G Electronics, Claims Big Strides
Wednesday, July 25, 2018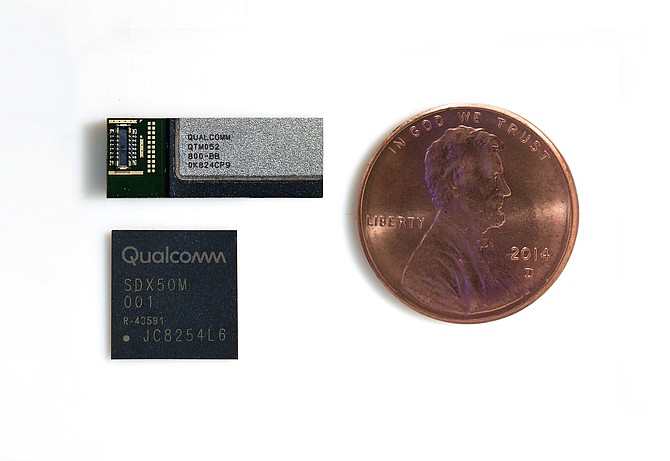 Qualcomm Inc. said it has developed specialized miniature electronics for fifth-generation (or 5G) wireless mobile devices, tackling sizable engineering challenges along the way.
Specifically, the company has produced radio-frequency (RF) modules, billing them as the world's first fully integrated 5G New Radio RF modules for smartphones and other mobile devices. They operate in the two disparate parts of the airwaves that 5G signals are set to occupy: at millimeter wave and in the sub-6 gigahertz range.
The electronics go hand in hand with Qualcomm's Snapdragon 5G modems.
In a July 23 announcement, Qualcomm (Nasdaq: QCOM) said it is at the point where it's able to send samples to electronics manufacturers. Devices using such electronics could launch as early as mid-2019, the corporation said.
"Qualcomm Technologies' early investment in 5G has allowed us to deliver to the industry a working mobile millimeter wave solution that was previously thought unattainable, as well as a fully integrated sub-6 gigahertz [radio frequency] solution. Now, these type of modem-to-antenna solutions, spanning both millimeter wave and sub-6 spectrum bands, make mobile 5G networks and devices, especially smartphones, ready for large scale commercialization," said Cristiano Amon, president of Qualcomm Inc., in a statement distributed by the company.
"With 5G, consumers can expect gigabit-class internet speeds with unprecedented responsiveness in the palm of their hands."
The problem of sending wireless data in the millimeter wave spectrum presents "formidable" engineering challenges, the technology company said. Qualcomm said its QTM052 millimeter wave antenna modules address those challenges by supporting advanced beam forming, beam steering and beam tracking technologies.