PROPERTY: BANKERS HILL SEEN AS PRIME SPOT FOR PROJECTS
Developer Confident in Demand for Ultraluxury
Monday, July 23, 2018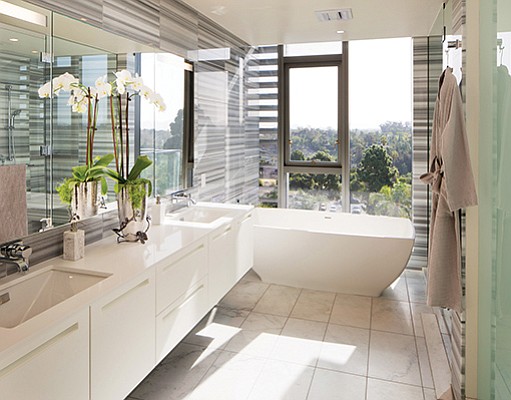 continued — One of the four top-floor penthouses in The Park has a walk-in closet that's bigger than the master bedroom it serves to provide extra storage space for those downsizing, and most of the units have extra-large walk-in closets.
Six townhomes, which are part of The Park, face Balboa Park on Sixth Avenue and have living roofs made up of various plants.
The lobby of the 14-story tower with its 54 condominium units faces Fifth Avenue and has three levels of parking in an underground garage that has been wired for electric vehicle charging stations.
The personal elevators that are in 44 of the 54 tower condominiums are but a part of what its developers said makes The Park something special.
"We were trying to build something that was unique to San Diego, so we tapped an architect from Canada who had a lot of experience developing ultra-luxury residential," said Brad Termini, CEO and co-founder of Zephyr. "When we started out, we had a theory that there always was a market for the best."
Dialog Design of Canada did the overall design of The Park. The general contractor is Balfour Beatty.
Artistic Touch
The interiors, including the first floor lobby, were designed by renowned artist Lorena Gaxiola.
"We wanted to do something that was different and spectacular and we think we have," Termini said.
The exterior of the tower is glass and Volakas marble. The marble was imported from Greece, and sections have been "bookmatched" so the veins in one piece of marble match with those of the adjacent piece, said Amber Frankhuizen, Zephyr vice president of sales and marketing.
The model condominium unit, which was sold furnished, was well-appointed by JB Noble Interiors of Los Angeles.
The first floor lobby builds on the exterior design, with a black marble floor, three-dimensional walnut wood walls and a sculptured glass and wood staircase.
Wine Room
Just off the lobby is a temperature controlled wine room with 48 lockers that hold 12 or 27 bottles each, a poker table and a billiards table.
The wine room lockers are to supplement the under-the-counter wine storage unit in every condominium that hold 34 bottles each.
The four penthouses have full-height wine refrigerators that hold up to 102 bottles.
The second floor of the tower is what Frakhuizen called "our amenity level."
It includes an outdoor patio with a pool, a spa with two "fire features," a fitness center and adjacent yoga room, a club room with a kitchen that has a cooking area and adjacent bar for entertaining, a conference/dining room, and two furnished guest suites of 378 square feet and 348 square feet which residents can reserve at no cost for visiting friends or relatives.