DEVICES: SCANDAL BRINGS WELCOME SCRUTINY TO SECTOR
Other Blood Testing Cos. Avoid Taint of Theranos
Thursday, July 19, 2018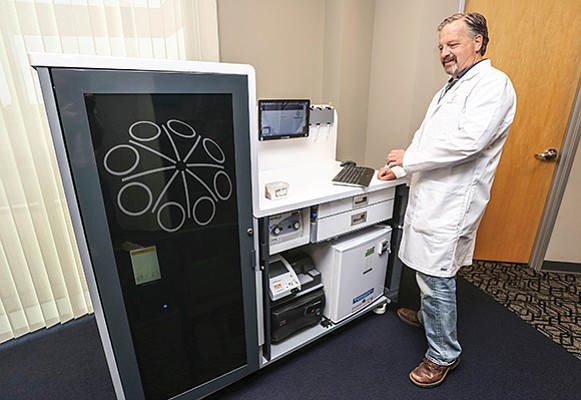 San Diego — Genalyte can run tests on drops of blood, often delivering results in only 15 minutes. The goal? Disrupt lab testing. This may sound familiar — and not in a good way.
Silicon Valley's Theranos sought to revolutionize health care with finger-stick blood tests. But federal criminal charges filed last month against the company's former No. 1 and No. 2 allege efforts to mislead investors with faulty tests. Amid this rise-and-fall story, San Diego blood testing companies like Genalyte are eager to show investors they're no Theranos.
"You really have to step forward with proof that what you do works," said Genalyte CEO Cary Gunn, noting he constantly answers the question, "How are you different than Theranos?"
Transparency
Gunn said transparency is a company tenet. While Theranos was criticized early on for a dearth of hard evidence, Genalyte's website contains white papers and published studies in peer-reviewed journals. The company invites media, investors and other groups to give the technology a spin, a contrast to Theranos' secrecy.
Although lacking scientific rigor, Gunn said Theranos was right to try to decentralize lab testing. Genalyte's Maverick Detection System aims to make blood tests a standard, 15-minute exercise at the doctor's office, supplanting outside laboratories that can take days or even weeks to return results.
Gunn said this cuts down on presumptive treatment, in which patients are prescribed drugs that may be harmful or unnecessary while waiting for lab work. As a positive, Theranos got more in health care thinking about point-of-care diagnostics, a segment that encompasses tests skipping offsite labs.
Need to Make Strong Case
Like investors, health providers upped the burden of proof. They want data and pilot projects. This comes after Theranos reportedly rolled out inaccurate blood tests at Walgreens stores in California and Arizona.
"For many years it was hard to get financing and attention because everyone believed Theranos had already solved the problem. In the wake of Theranos, everyone is skeptical about this claim. So we have to provide more data, we have to really engage people in how our technology works, what we do, and they have to see it," said Gunn.
Of note, the company in January showcased the lab-on-a-chip technology at San Francisco's JPMorgan Healthcare Conference, a top gathering of executives and investors, for a fundraising roadshow.
The Maverick is currently undergoing clinical trials as part of seeking U.S. Food and Drug Administration approval, and the company launched a nonproprietary version in Texas. Of 100 common lab tests, the company offers 15-minute results for two-thirds. FDA approval would bump that up to about 95 of the 100, according to Gunn.
Prev Next