COMMENTARY: Time Is Now to Address Pay Inequity for Women
Wednesday, July 18, 2018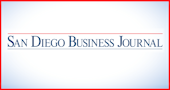 San Diego — The latest jobs report from the Bureau of Labor Statistics showed the U.S. economy creating nearly 30,000 more jobs than economists had predicted, the 91st consecutive month of job growth. The real news is that wages are finally catching up, as employers facing the tightest labor market in decades are forced to increase compensation to attract the best talent and retain their best employees.
While San Diego admirably adopted an equal pay law, closing the gender wage gap will require the city's working women using this "perfect storm" of workforce and cultural transformation to negotiate salary adjustments that achieve pay parity once and for all. San Diego businesses that meet their demands and actively pursue gender diversity in their executive leadership could see a remarkable return on the investment.
State Law
But change won't be easy. California adopted a statewide equal pay law (S.B. 358) in 2015. But the law merely requires employers that are challenged on the issue to prove that their wage gap was the result of seniority, merit, production or any factor other than gender. The onus is still on women to initiate such a challenge and defeat all of her employer's potential justifications.
Despite S.B. 358, California women are paid on average 86 cents for every dollar paid to a man, according to a 2017 study by the Institute for Women's Policy Research. While 86 cents is better than 80 cents on the dollar, which is the National Women's Law Center estimate of the average for all full-time working women in the U.S., at current rates, San Diego's women won't achieve wage equality until an additional three decades of gradual wage adjustments.
The gap may even be wider, however, according to new research by the People's Policy Project. When you include contingent workers — part-time, freelance, and contract employees — the gender wage gap nearly doubles, from 20 cents to 39 cents nationally. It gets worse still for women who climb the corporate ladder. By age 50, male executives make 65 percent more annually than similar female executives, according to compensation research firm Payscale, and are 85 percent more likely to have advanced to the C-suite.
Addressing Talent Scarcity
Still, if there was ever an opportunity for progress, it is now. With San Diego's unemployment rate at a record-low 2.8 percent, and wages ticking up over the past few months, employers are growing increasingly concerned about talent scarcity. Globally, more than half of the 800 C-suite and human capital leaders surveyed for Randstad Sourceright's 2018 Talent Trends Report said they were planning substantial investments to make the workplace experience more attractive to potential hires largely in response to the talent scarcity concern.
At the same time, recent events have elevated the issue of wage equality to the point that it is difficult to imagine a female candidate negotiating salary without the issue surfacing, one way or another. The #MeToo movement against workplace harassment precipitated the #TimesUp campaign, which has raised awareness of the gender wage gap across industries. In response, some high-profile companies — like Google, Salesforce and Citigroup—have already announced salary adjustments to eliminate any gap in wages between their male and female employees.
Culture of Gender Equality
San Diego's employers must follow the lead of those companies if the employers hope to retain the valuable women they currently employ. A full 80 percent of women recently told Randstad US that they would leave their employer for one that offered better gender equality.
When efforts to diversify organizational leadership are paired with a genuine commitment to include women's disparate perspectives, the result is more effective executive leadership and potential profits that more than compensate for the higher salaries required to close the gender wage gap.
Change occurs not from knowing the right thing to do, but by doing it. San Diego's working women may have no better opportunity than now to achieve wage parity with men, and they owe it to each other to make the most of this moment.
Rebecca Henderson of San Diego is CEO of Randstad Sourceright, a global talent solutions firm.