ITEMS OF INTEREST ABOUT PEOPLE IN 2018 THE SAN DIEGO 500, THE BOOK OF INFLUENTIAL BUSINESS LEADERS:
SD 500: Mission Federal CEO Continues National Role
Tuesday, July 17, 2018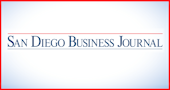 San Diego — Debra Schwartz, president and CEO of Mission Federal Credit Union, has been re-elected to the board of the National Association of Federally-Insured Credit Unions for a third three-year term. She will serve on the executive committee as vice chair for a two-year term. Schwartz previously has served as treasurer and secretary. In addition to her corporate duties, Schwartz also serves on the executive committee of the board for Junior Achievement of San Diego County.
• • •
Brendan Smith, CEO and founder of Motive Interactive, has been named a winner in the CEO World Awards program. He will be honored at a gala in San Francisco on July 30.
Smith is being recognized for the firm's commitment to investments in programmatic technology, which leverages predictive modeling and machine learning to improve the efficiency of advertising campaigns.
Motive Interactive is a marketing company that drives user acquisition for mobile app companies and has been among the region's fastest growing companies.
• • •
The California Travel Association has named chef Brian Malarkey its Culinary Champion of the Year for his role in enhancing the California food and lifestyle scene. Malarkey has been a part of launching 15 restaurants, including the frequently lauded Herb & Wood in Little Italy in 2016. He and business partner Christopher Puffer have two more restaurants under development with openings scheduled in 2019. Malarkey was honored at the statewide convention at the Hilton San Diego Bayfront.
• • •
This may be the year Richard Blais and Michael Rosen crack open more than one of their eclectic comfort food casual restaurants. The Little Italy Crack Shack opened in 2015, followed by Encinitas in 2016 and Costa Mesa in 2017. The new store in Westfield Century City may be open by the time you read this, and they are well underway on a 6,000 square-foot location in Old Pasadena they hope to open by the end of the year.
The Little Italy original is now the smallest of their stores at 4,000 square feet.