DINING: CO. TO OPEN LOCAL PLANT; PRICING MAY BE CHALLENGE
Compostable Cutlery Aims to Serve Diners and the Environment
Monday, July 16, 2018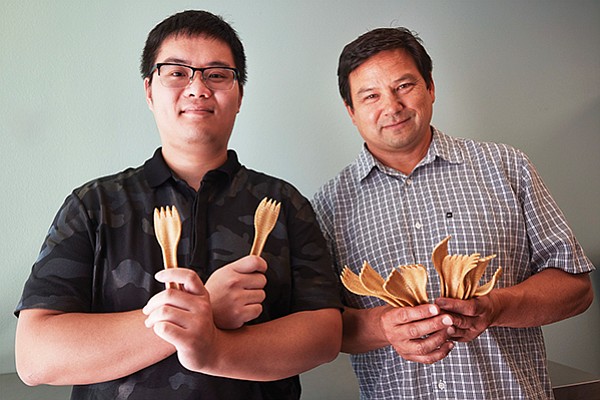 continued — What's different between those other adaptations and Kong's product is not only the 200 unique formulas that he came up with based on a variety of grains that grow in various regions (i.e. wheat, corn and soy in the United States, tapioca and soy in Southeast Asia), but also the format that Kong created in order to mass produce his product. He hopes to eventually have manufacturing plants all over the world to continue to create the compostable cutlery using a crop that is easily accessible in each country for a low energy carbon footprint.
Manufacturing
"Zack, as a bio engineer, developed the mold that has an air-flow technology that allows us to manufacture a lot of these in a small space as opposed to a horizontal production line and also gives the utensil its strength," said Liu, who graduated with his doctorate from Johns Hopkins University in 1996. "Because, if you can't mass manufacture these, it just doesn't make much sense." Part of the reason for that is the cost of making the utensils, which will be about $0.50 a fork at first, with prices expected to drop down as orders increase.
Kong's creation is one of many recent efforts in an eco-friendly direction for the food service industry. In November 2016, California banned single-use plastic bags via Proposition 67, becoming the first state in the nation to do so. As a result, during the 2017 California Coastal Cleanup Day plastic bags accounted for 3.1 percent of the litter collected from the state's beaches, down from 7.4 percent in 2010.
This is part of the inspiration behind the name TwentyFifty Fork, said Liu. "2050 is the year a lot of things are happening, according to experts, like, the amount of plastic in oceans will exceed the amount of fish in the ocean. What we are aiming for is to help avoid some of those consequences."
Awareness in Hospitality Sector
Just last month, Seattle announced its restaurants would stop offering plastic straws and utensils starting July 1, becoming the first large city to ban the products, according to Fortune.com. Instead, eateries will have to give customers compostable alternatives or patrons will have to bring their own cutlery. The California Coastal Commission reports, from 1989 to 2014, the California Coastal Cleanup Day picked up over 700,000 straws and stirrers from beaches, or about four percent of the total items retrieved. According to a report earlier this year by CNBC, California is also looking to ban removable plastic caps and impose restrictions on plastic straws by requiring customers be given them only if requested.