Tackling Disconnection Must Be a Communitywide Imperative
Sunday, July 15, 2018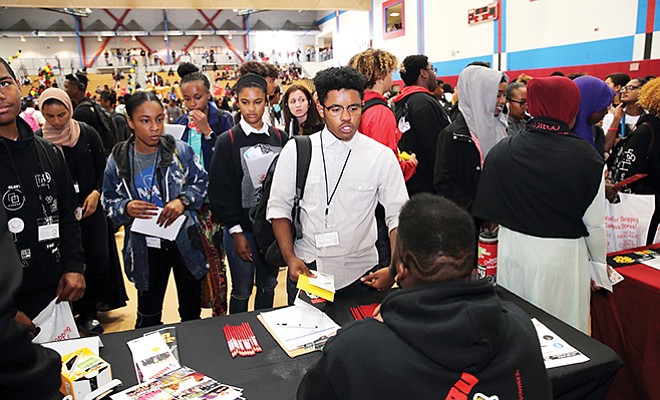 San Diego — The San Diego Workforce Partnership recently launched OpportunitySD, a movement to dramatically reduce the number of opportunity youth — young adults ages 16-24 who are neither in school nor working — in the region. In March of this year, SDWP's opportunity youth research with nonprofit Measure of America revealed that San Diego County had the largest black/white disconnection disparity of any big city in the nation in 2016, the most recent year for which data are available. And the overall black youth disconnection rate is 26.4 percent, the second highest in the nation, second only to the St. Louis region. SDWP's partnered with San Diego Unified School District, the San Diego Community College District, UCSD CREATE and United Way of San Diego County, along with other stakeholders, to discuss the data.
As a result of these deliberations, the partners convened San Diego County's first-ever African-American Achievement Summit. More than 750 San Diego Unified high school students were transported to City College where they were met by dozens of African American community leaders and young adult near-peer mentors.
The purposes of the summit were to connect African-America students to resources to support their post-high school ambitions and to African-Americans mentors, and equip youth with tools and strategies to craft their own personal pathway through post-secondary education and into the workforce. Aptly themed "Be Your Story," the event was emceed by Movement BE founder Nate Howard, who urged young adults to "tell their story before someone else tells it for them."
Students divided into small teams to meet with African-American educators, counselors, business people, city and county officials and nonprofit leaders. Workshops included college registration, financial aid, stress management, financial literacy and wellness. To stay up to date on the Opportunity SD initiative, visit: OpportunitySD.org.
• • •
Using the $2.4 million raised in 2017, Padres Pedal the Cause announced the funding of 11 new cancer research projects from collaborative teams at UC San Diego Health, Salk Institute for Biological Studies, Rady Children's Hospital, and Sanford Burnham Prebys Medical Discovery Institute. Now in its sixth year, Padres Pedal has raised more than $7.1 million in San Diego to fund projects that may enable larger grant funding, and ultimately, lead to cures for cancer. Visit: gopedal.org/register for upcoming events.
• • •
The Oceanside Promise announced that it has been awarded direct and indirect grant funding from the Stuart Foundation and Carnegie Corp. of New York. The Stuart Foundation's Board of Directors recently approved a $200,000, 18-month grant to support organizational capacity for the Oceanside Promise communitywide partnership whereas the corporation's philanthropic support will provide technical assistance for advancing transformational, equitable, and sustainable social change throughout Oceanside. Together, the grants will enable the Oceanside Promise to better align and leverage the programs, services, and resources of its more than 40 cross-sector partners to ensure Oceanside's children and students achieve their fullest potential in college, career and life.
Nicole Magnuson, executive director of the Oceanside Promise said: "The entire community benefits when our children succeed, and the Oceanside Promise partners are working together to help ensure every child has equitable access to economic and life opportunities regardless of race, income or ability."
The Oceanside Promise partnership officially launched in early 2015 after Dr. Duane Coleman, the outgoing superintendent of Oceanside Unified School District, recognized that the needs of his students were too complex for educators to address alone.
The Stuart Foundation grant is directed to staff capacity to address four goal areas: safety, health, well-being, early childhood success, college/career readiness, and postsecondary completion. The partners' emphasis is on underrepresented students and children living in Oceanside's highest poverty neighborhoods. The Stuart Foundation grant is a seed grant that requires the Oceanside Promise to raise matching dollars from individuals, corporations, and local philanthropy, as well as to meet specified benchmarks for sustaining capacity and achieving short- and long-term impact. Community members interested in supporting the Oceanside Promise and its cradle to college and career goals can give online at OceansidePromise.org/donate.
Send Kudos/Giving items to sglidden@sdbj.com.