BANKING: FINANCE SOLUTIONS OFFERED FOR CURRENT CASH BUSINESS
When Banks Just Say No To Marijuana Companies
Thursday, July 12, 2018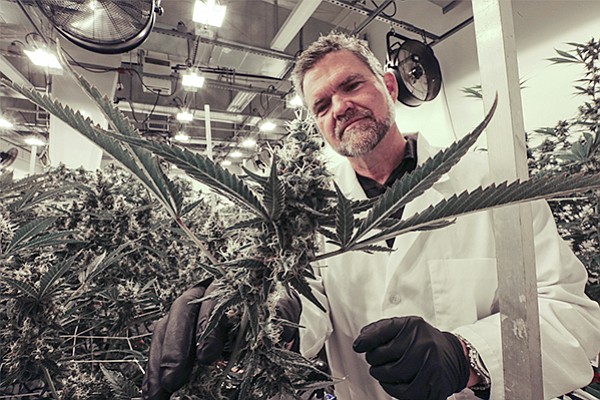 San Diego — Armored vehicles. Vaults. Talk of cryptocurrency.
These are realities for San Diego marijuana businesses like Outco that are unable to obtain bank accounts.
Congress and the California Legislature are wrestling with bringing cannabis cash out of the shadows, while marijuana-related businesses are paying heavily for banking workarounds.

The medical marijuana industry has long grappled with banking woes. But the dawn of legal recreational marijuana in California in January pumped more money into the industry, and newbies looking for a piece of the action are running into challenges. Think paying employees in cash or obtaining loans.
Security Problems
Then there are security headaches stemming from being a mostly cash company, which demands constantly shuffling money for dispensaries like Outco.

"Bottom line is there's never much cash around here, and what leaves here does so in a very secure way," said Lincoln Fish, CEO of Outco.

The federal government classifies marijuana as a Schedule 1 drug, so federally-insured banks are reluctant to touch cannabis money for fear of money laundering charges.
Outco is making it work, though Fish said he would happily pay bank fees much higher than a typical business to dispense with complicated security procedures.
The company relies on safes and offsite vaults. Fish declined to elaborate, but did say security poses a significant challenge, especially given Outco's large footprint.
Outco's marijuana constellation encompasses a recreational dispensary set to open in Sorrento Valley later this year, a medical marijuana dispensary and indoor grow space in unincorporated El Cajon, and other cultivation and distribution operations.

Fish has been in conversation with many banks, nearly getting an account with one around the 2016 presidential election. But Atty. Gen. Jeff Sessions' anti-marijuana stance scuttled the deal.
Occasionally, Fish said, there are whispers of the odd bank taking on marijuana clients, usually met with a bank denial to avoid being overwhelmed from a rush of cannabis business.
Optimistic for Change in Banking Rules
While he's optimistic relaxed banking rules will come, Outco in the meantime is considering cryptocurrency from
MoneyTrac Technology, a subsidiary of San Diego-based Global Payout. This cryptocurrency, geared toward marijuana firms, is built on blockchain, a decentralized digital ledger.
The cost for security and cash management services can represent 15 percent to 40 percent of gross revenue, according to Hezekiah Allen, executive director of the California Growers Association. Often services come at fixed prices, disproportionately hurting smaller businesses.
Another problem is that loans, necessary to scale up or for one-time regulation costs, are difficult to come by. Locking down a mortgage can be tough too.

"Without a doubt, anytime we have a member that decides to throw in the towel...banking always come up," Allen said.
Logistical Nightmares
Beyond steep costs, being locked out of banking creates logistical nightmares – some obvious and some not. Employees, taxes and licenses must be paid in cash. Dispensaries can't take credit payments.
Even many armored vehicle companies, due to federal ties, won't take on marijuana clients. Those that will, charge extra.
"This isn't just banking. This is things as fundamental as paying various fees," Allen said, noting many truck up tax payments to Sacramento if an agency doesn't have a local office. "The lack of banking really does come into every aspect of operating in this market."

It also makes the industry a target for crime. While Allen hadn't heard of orchestrated heists commandeering a vehicle, there have been reports of thieves taking cash from growers selling their products.
Yet for marijuana businesses, there's hope.
Federal Legislation
Bipartisan marijuana legislation unveiled last month by U.S. Sens. Cory Gardener and Elizabeth Warren would allow cannabis cash in federally-insured banks, part of an effort to give states a greater control over how to best approach marijuana oversight.
Allen said this is likely the best legislative vehicle, though it looks to be a ways away with Congress moving at a slow pace.
Accessing banking isn't quite as much of a burden for cannabis companies that don't touch the plant. Yet they still have a high bar to clear.
Ali Fakhri, the CEO of San Diego-based EventHi, a cannabis events management platform, covered his winding journey that led to a merchant account, as well as banking with Colorado Credit Union. His recent 45-minute talk, titled Cannabis Challenges in High Tech and Banking, came during San Diego Startup Week.
Among software companies like EventHi, a credit union account runs as much as $1,000 monthly, according to Fakhri.
The account also requires submitting paperwork — more exhaustive than an average business — on tax history, investors, transaction verifications and more. EventHi, which has eight employees, has someone dedicated solely to this.
Through its relationship with the credit union, EventHi also managed to land a merchant account, a necessity because the company operates in 15 states.

"Any other business you get a Paypal account and you pay anyone you want. In our industry it's very difficult," Fakhri said.
Other Solutions
An array of legislative measures have been floated to address the banking hang-up. Besides the Gardener-Warren bill, a California measure would let cannabis firms deposit money in state-created banks, and these firms could obtain checks for paying rent and local taxes.
But the marijuana industry has expressed a preference for a federal solution.
In late June, Sen. Chuck Schumer introduced a bill to decriminalize marijuana, removing it as a Schedule 1 drug.
This would take away the largest barrier to marijuana banking, according to Julie A. Hill, a professor at the University of Alabama School of Law.
However, banks would still have to comply with anti-money-laundering laws, which require significant due diligence.
"Because the due diligence could be costly, some banks might still decide they do not have the resources or expertise necessary to bank marijuana customers. However, I suspect that many more financial institutions would be interested in courting the marijuana industry if marijuana was not a Schedule 1 controlled substance," Hill said.
Amid many financial institutions taking a wait-and-see approach, the first banks to serve cannabis clients will garner intense loyalty. So said Fish, the CEO of Outco.
"You better believe we're going to be loyal to that bank," he said. "And it's just a matter of time before the dam breaks."