Kieran Gallahue Joins Arena Pharmaceuticals' Board
Thursday, July 12, 2018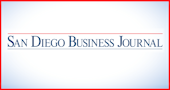 Life sciences veteran Kieran Gallahue was named to Arena Pharmaceuticals' board of directors.
Gallahue was the CEO of San Diego medical device companies ResMed and CareFusion, which was acquired by Becton, Dickinson and Co. in 2015 for $12.3 billion, the second largest life sciences deal in the region's history.
In addition, he has held a variety of senior-level positions at Nanogen, Instrumentation Laboratory, Procter & Gamble, and General Electric.
"We look forward to leveraging Kieran's extensive expertise as we plan the path forward for our rapidly advancing, multi-product, phase 3 ready pipeline," Tina Nova, Arena's board chair, said in a news release.
Arena has bounced back after exiting obesity and rebooting autoimmune drugs, as reported in this May San Diego Business Journal article.