S.D. Brokers Arrange $18.3M Loan For Arizona Project
Wednesday, July 11, 2018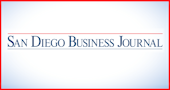 The Capital Markets Debt & Structured Finance team in CBRE's San Diego offices has arranged an $18.3 million loan for the acquisition of an Arizona apartment complex by The Certe Group, LLC of San Diego.
The loan helped in the $27.8 million acquisition of the 116-unit Avilla Heights apartments in Chandler at 255 East Chandler Heights Road.
Brian Cruz, Scott Peterson and Bill Chiles of CBRE secured the interest only, fixed rate loan through Fannie Mae.
Built in 2017 on a 9.5 acre site, Avilla Heights consists of 101 buildings in which all 116 units have private backyards.
Amenities include a swimming pool, spa, central greenbelt, gated access and covered parking.