Reshaping Old Town's Office Inventory
Tuesday, July 10, 2018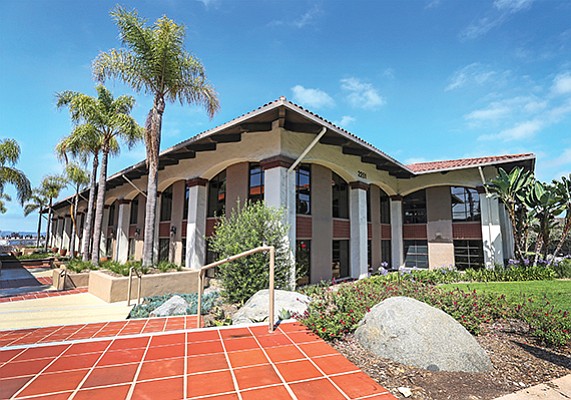 San Diego — When Adam "Ace" Moyer was looking for a new location for the Knockaround sunglasses company he formed in 2005, he found it in what had been a worn-out office building in San Diego's Old Town.
"It's a nice little building," Moyer said. "We didn't want to be in a big, high-rise office or anything like that."
What he found was Old Town Plaza, a two-building complex at 2251 San Diego Ave. that's been transformed by The Casey Brown Company from that tired and dated warren of small offices with dropped ceilings into the open creative spaces that tenants demand to attract a millennial workforce.
Brown, whose company also is renovating the former Union-Tribune building in Mission Valley into an office complex called Ampersand, said he spent $3 million redoing Old Town Plaza, which has a combined 65,000 square feet.
He started by completely gutting the interior to expose large wooden beams that reach up to form a cathedral ceiling in one section that goes up nearly 20 feet.
Brown also remodeled the lobby and other common areas, which included turning janitors' closets into changing rooms.
Details on the appearance of the interior are largely up to the companies that move in, Brown said.
"We took as our approach to cater to the tenants," Brown said.
With the complex about 75 percent leased, companies such as Knockaround, Power Digital Marketing and Knox Attorney Services have opted for open space.
Aside from cleaning up the outdoor patio and adding a wall at one end, Brown said he left the exterior of the two buildings pretty much as-is.
"The courtyard, you didn't want to hang out there," Brown said. "Now, the place is just bustling with people."
In its earlier iteration, Old Town Plaza drew tenants primarily from the neighborhood, but the renovated plaza has drawn interest from throughout San Diego, said Brandt Riedman, vice president of JLL.
Moyer moved his company to Old Town from Barrio Logan, and other tenants have come from such tony neighborhoods as Bankers Hill.
Along with Riedman, Richard Gonor and Tony Russell of JLL lead the leasing.
"It's a great location," Riedman said. "You've got immediate access to the freeway and SPAWAR, you've got the trolley, you've got walkable amenities.
"The catch is that there's just not much office space available in Old Town, and what there is doesn't often come available."
Partly because Old Town as a submarket is so small, that brokerage firms such as JLL typically lump it in with other submarkets such as Point Loma.
But Riedman estimated that at most, there's about 300,000 square feet of office space in Old Town.
"There's a lot of smaller buildings that are owned by the tenants – it's user owned buildings," Riedman said.
Brown's renovation of Old Town Plaza has taken the complex from what would be characterized as a B building to an A building, Riedman said.
Asking rents for office space in Old Town Plaza are $3.25 per square foot – which is about average in the Old Town/Point Loma submarket for Class A buildings, according to JLL.