Agtech Startup GroGuru Gets $250K in Pitch Competition
Tuesday, July 10, 2018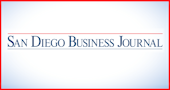 San Diego-based agtech accelerator Radicle Growth recently teamed up with Western Growers, which represents family farmers in Arizona, California, Colorado and New Mexico, to fund two early-stage startups working on agriculture-related automation technologies.
The organizations partnered up to launch the Radicle Automation Challenge to fund companies working to automate agricultural functions.
Four companies pitched on June 26 in front of a panel of judges that included Kirk Haney, CEO and managing partner of Radicle.
Two companies - Ganaz and GroGuru - were each awarded $250,000. Ganaz, which is based in Seattle, has developed a mobile app to help farmers recruit farmworkers. GroGuru, a local company that previously graduated from the EvoNexus incubator program in La Jolla, offers a precision soil and irrigation monitoring system. GroGuru last year won $25,000 for its first-place finish in a pitch competition hosted by Cox Business.
The winners were also awarded exclusive access to farm acreage to pilot their technologies.
"The labor shortage in agriculture has reached a critical stage, and without legislation for workable ag immigration reform, we need to be proactive in accelerating the development of technology if we want to continue to have a nutritious and uninterrupted domestic food supply," said Tom Nassif, president and CEO of Western Growers. Western Growers, founded in 1926, opened an agtech accelerator in Salinas in 2015. It houses 51 startups.
Radicle, a $15 million fund backed by investors including Finistere Ventures, industry players Bayer Crop Science and DuPont Pioneer, and equity crowdfunding platform OurCrowd, makes $500,000 seed investments in agtech companies.
Reach reporter Sarah de Crescenzo at sarahd@sdbj.com.