PROPERTY: COLORFUL APARTMENTS GET NOTICED
Building Up the East Village Vibe
Monday, July 9, 2018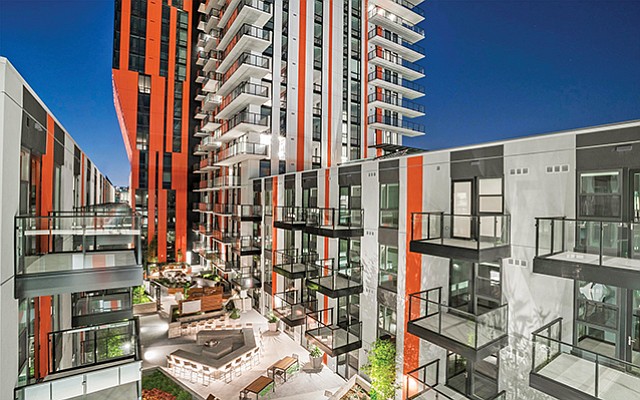 San Diego — Shift — the latest addition in downtown high rise apartment towers — was meant to stand out.
With a 21-story tall reddish-orange tower jutting out on one side, the latest "luxury" apartment addition to San Diego's East Village neighborhood is an eye-catcher.
"We wanted to create a landmark for East Village," said David Gonzalez, senior designer with the San Diego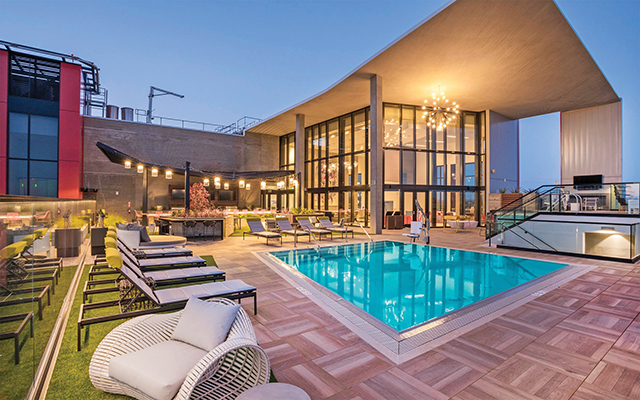 architectural firm of Carrier Johnson + Culture.
"It's a building that doesn't belong anywhere else but that particular site. You can't go ahead and put that building in Little Italy or anywhere else," Gonzalez said. "This building, because of its strong concept is going to stand the test of time. It's going to be fresh for generations to come."
With red and black stripes running up and down the building, Shift — at 1501 Island Ave. — is almost a sculpture of its own and is meant to reflect the bohemian nature of its neighborhood.
"East Village has a history of being an artist colony for many years," Gonzalez said.
The reddish-orange color of Shift is the same as that of the Golden Gate Bridge in San Francisco.
It Rebrands the Neighborhood
In addition to its striking color, Shift's quirky angular structure sets it apart.
"It's a bold and vibrant structure that complements the neighborhood," said Dora McCann Guerreiro, executive director of the East Village Association. "It rebrands the neighborhood. I love it."
LMC, a Lennar Co. that is building Shift, wanted "something that's funky and eclectic and very memorable, something you're not going to see in suburbia, something you're not going to see in every downtown across America," said Dan Ferguson, LMC's director of development.
"We kind of challenged them (Carrier Johnson + Culture) to do something that San Diego hasn't seen before, to do something that's really unique," Ferguson said.
Swinerton Builders is the general contractor.
Ferguson declined to say what it cost to build Shift.
A Fitting Tribute
Gonzalez said the design of Shift with, the angles that make it look almost like a giant piece of machinery, also is a tribute to Bob Sinclair, the East Village pioneer and founder of Pannikin Coffee who died in a 2011 motorcycle crash at the age of 68.
Sinclair bought old buildings in East Village just because he liked them, not so much as an investment. He created artworks from the old machinery and equipment he found inside.
"Bob Sinclair did many sculptural pieces around East Village utilizing machinery," Gonzalez said. "His bohemian nature influenced the local culture."
Shift actually has two sections — a tower which resembles two buildings fastened together, and a low-rise "podium" building with one story of retail space on the bottom floor beneath four stories of apartments.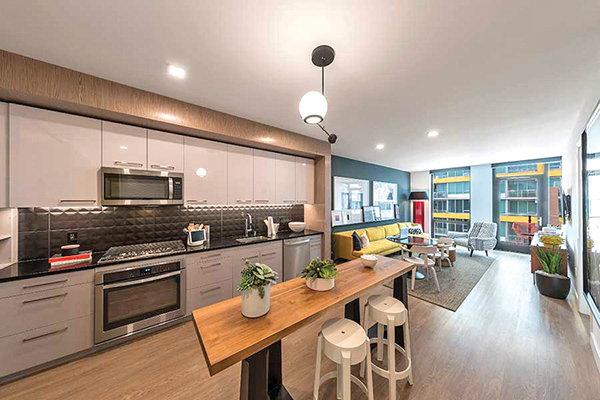 Aside from its appearance, Shift also is different from some other downtown apartment structures in that the top floor is a common area including a "sky deck" lounge with barbecue areas, a gym and a swimming pool instead of pricy penthouses "so that everybody in the building can enjoy the view" said Bryan Feltman, LMC community manager of Shift Apartments. The penthouses are on a floor below.
Video Tour of Shift and Its Surroundings
The leasing office also is on the top floor, with video technology that allows potential tenants to take a virtual tour of Shift, the apartments they might be considering and take a virtual tour of the surrounding neighborhoods.
With the final construction work still going on, Shift has already attracted the attention or prospective tenants, including people who work in nearby offices.
"We get people who come over here saying, 'I've been staring at your building for two years while it's been getting built," Feltman said. "The demand has really been amazing,"
The Tenant Roster
As of mid-June, Feltman said about 70 of Shift's 368 apartments had been leased, and The Boxing Club and Red Hot Coffee have signed up to lease some of the 19,000 square feet of retail space on the ground floor, Feltman said.
Apartments range in size from 506 square feet to 715 square feet for studios, 772 square feet to 1,188 square feet for one-bedroom units, 1,109 square feet to 1,301 square feet for two-bedroom units, and 1,543 square feet and 1,658 square feet for the building's two penthouse apartments.
Rents range from $1,872 to $2,320 for studios, $2,425 to $4,522 for one-bedroom apartments, $3,201 to $5,190 for two-bedroom apartments, and more than $6,000 for the penthouse apartments, Feltman said.
There are 45 floor plans, and the color scheme in each is a blend of black, white and gray.
Most apartments have balconies or patios on the first floor, most have floor-to-ceiling windows, and they all come with full-size washers and dryers and gas ranges
Every apartment also comes with what LMC bills as its Lutron Dream Suite package that allows tenants to adjust the temperature setting, lighting, raise or lower the shades, and turn on or off music or their television with devices such as Alexa or remotely using their cellphones.
"We're the only community in downtown San Diego that offers anything like this," Feltman said.
Additional Amenities
Shared amenities include a dog park, a second floor art walk courtyard, 10 electric vehicle charging stations in the underground parking garage, a coworking space that includes eight private offices, a clubhouse and a public plaza on 15th and J streets.
The target market for Shift is "millennials, entrepreneurs, artists and makers," Ferguson said, "both young and middle-aged professionals who either work and live downtown or work outside downtown but love urban living."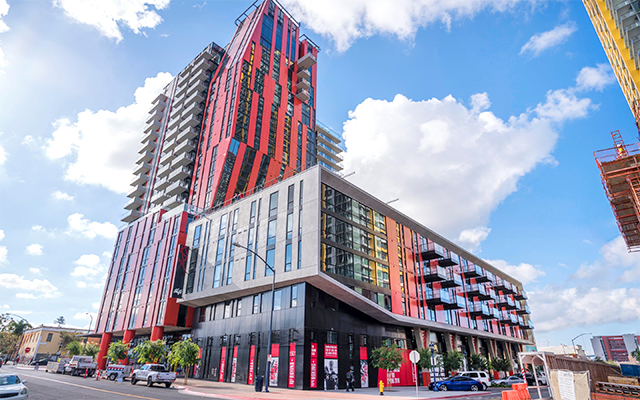 In that, Shift is competing with several other recent additions to the high-end apartment market downtown.
They include Pinnacle on the Park across the street at 424 15th St., Alexan at 300 14th St., IDEA1 at 895 Park Blvd., EV Lofts at 688 13th St., LUMA at 520 Ash St., and Park 12 — The Collection at 100 Park Plaza.
More are on the way, including a second Pinnacle tower and Broadstone Makers Quarter just a few blocks away at 1601 Broadway.
Marcus & Millichap, in its second quarter review, reported that the number of downtown apartments increased by nearly 1,200 over the past four quarters, yet the vacancy rate was just 4.9 percent — an indication of the high demand.
Brokers for several commercial real estate firms said demand may cool slightly with so many new apartment buildings coming online this year or next year, but they said there's such a severe housing shortage that it will pick right back up, and there's no shortage of people willing to pay more to live downtown.
"I don't think there's overbuilding in the San Diego market or downtown," Darcy Miramontes, an executive vice president with JLL, said in a recent interview. "The development downtown as well as in greater San Diego County is insufficient to meet demand."