AIRCRAFT: SURVEILLANCE DRONES DEAL REPORTEDLY WORTH $5.1 BILLION
Australia Planning to Buy Six Northrop Grumman Tritons
Sunday, July 8, 2018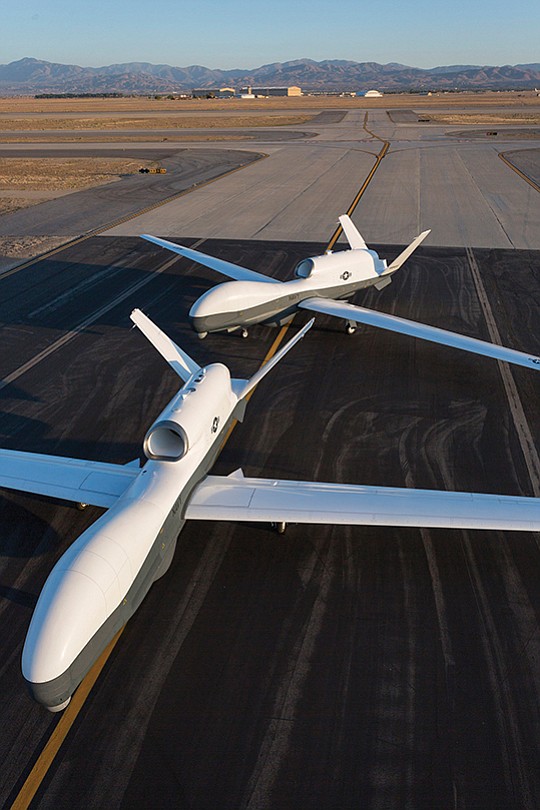 San Diego — Australia plans to buy six Triton high-altitude surveillance aircraft made by Northrop Grumman Corp. in a deal that reportedly could be worth as much as $5.1 billion.
NORTHROP GRUMMAN CORP.
CEO: Wes Bush
Revenue: $25.8 billion in 2017; $24.5 billion in 2016
Net income: $2.02 billion in 2017; $2.20 billion in 2016
No. of employees: 70,000 companywide
Headquarters: Falls Church, Virginia
Year founded: 1994
Stock symbol and exchange: NOC on the New York Stock Exchange
Company description: Diversified defense contractor
Northrop Grumman (NYSE: NOC) manages the Triton program in San Diego, while it builds the unmanned aircraft in a secure factory in Palmdale.
The Australian government plans to pay as much as $1.04 billion ($1.4 billion in Australian dollars) for the first aircraft, associated equipment and improvements to two air force bases, according to statements from the Royal Australian Air Force and the U.S. Navy. Technically, the U.S. Navy is buying the aircraft and selling them to Australia.
Both U.S. Navy and Northrop Grumman officials said they could not confirm the $5.1 billion figure ($6.9 billion Australian) for six aircraft, reported by the Associated Press and Reuters.
Based on Global Hawk
Triton is based on the Global Hawk, an earlier version of the aircraft, which Northrop Grumman's predecessor company Teledyne Ryan developed in San Diego.
Australia announced its plans to buy the aircraft June 26. It expects to put its first aircraft into service by mid-2023, and to have all six delivered and in operation by late 2025.
Tapping Australian Businesses
Northrop Grumman also announced plans to incorporate Australian businesses into its global supply chain.
A Triton aircraft has a wingspan of 131 feet and weighs 16 tons at takeoff. It can fly as high as 55,000 feet and stay aloft for more than 24 hours. Its sensors send back high-resolution imagery and near real-time video. Pilots and sensor operators fly the Triton from ground stations, which can control an aircraft anywhere in the world.
"Australia has one of the largest sea zones in the world, over which it has rights to use marine resources, also known as an economic exclusion zone," said Doug Shaffer, vice president of Triton programs at Northrop Grumman. "As a flexible platform, Triton can serve in missions as varied as maritime domain awareness, target acquisition, fisheries protection, oil field monitoring and humanitarian relief."
Anti-Submarine Warfare
The aircraft will also be useful in anti-submarine warfare, said a statement from the Australian military.
The U.S. Navy is building its own Triton fleet; it plans to deploy its initial aircraft to Guam. The U.S. Navy's program of record calls for the Navy to eventually buy 68 Tritons.
Separately, on June 25, Northrop Grumman announced it expanded its factory in Moss Point, Mississippi, and extended its lease through 2026. The plant supports at least one San Diego-based program, the unmanned Fire Scout helicopter. The U.S. Navy carries Fire Scouts to sea on its littoral combat ships.
Northrop Grumman bases its unmanned aircraft programs at the Autonomous Design Center of Excellence, which occupies several buildings in Rancho Bernardo. Northrop Grumman plans to announce second quarter financial results on July 25.