EATERIES ADOPT 'SUPERFOOD' PRODUCTS AND LABELS AS MORE CONSUMER PREFERENCES HEAD TOWARD HEALTHY
Fruitful Selling Points
Thursday, July 5, 2018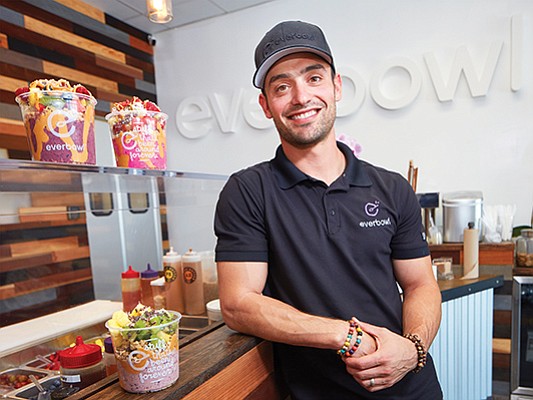 San Diego — For Everbowl founder, Jeff Fenster, who started the company in 2016 and now has 10 locations in San Diego and Riverside counties, using the word "superfoods" isn't to get consumers to believe superfoods are new to the market nor that they can cure or keep a person immune from diseases.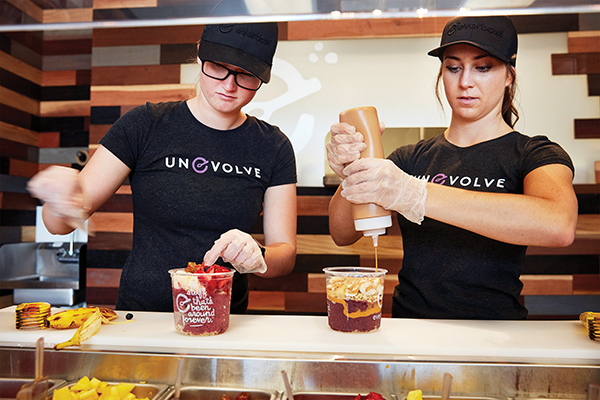 EVERBOWL
CEO: Jeff Fenster
Number of stores: 10 locations in San Diego and Riverside counties Year founded: 2016
Revenue: between $7 million and $9 million by the end of 2018, according to company
Company description: A San Diego-based chain that offers sugar-free, and organic superfoods bowls.
The company's marketing tag line is "made from stuff that's been around forever," and Fenster says it is using the phrase to encourage patrons to make better food choices and provide them with healthful food options in hopes they will adopt balanced diets lifestyles.
"I spent a lot of time figuring out why some of us don't eat right, and the four excuses I found are: it doesn't taste good, it cost too much, it doesn't fill me up and it isn't accessible," said the 35-year-old Fenster, who offers 24 ounces of sugar-free and 100 percent organic bowls with unlimited toppings for $8 at all his locations. "I wanted to solve all of those problems with Everbowl. Our goal is to open as many stores as fast as we can, everywhere, because this type of food should be accessible and available to everybody."
Revenue Projections
Fenster says he sells more than 55,000 bowls of superfoods like acai and pitaya a month and that the company, which added a kefir water product dubbed K2O in January, is projected to make between $7 million and $9 million in revenue by the end of this year. He recently opened a store in Menifee in Riverside County and has more locations opening this summer, including stores at San Diego State University and in Mission Valley.
His hope is to have 20 more signed leases by the end of the year, and eventually go nationwide.
Unlike standards for other recently popularized food labels like non-GMO, gluten free and organic, the U.S. Food and Drug Administration does not require brands to follow certain criteria to use the term "superfoods." In fact, while it has become a regularly-used buzzword in the last ten years as a descriptor of foods that are packed with high levels of nutrients like antioxidants, vitamins, and minerals, health experts say the word was created for marketing purposes and later adopted by publicists to increase consumer demand, adding that the classification has no standard definition or any true scientific basis.
Prev Next