EATERIES ADOPT 'SUPERFOOD' PRODUCTS AND LABELS AS MORE CONSUMER PREFERENCES HEAD TOWARD HEALTHY
Fruitful Selling Points
Thursday, July 5, 2018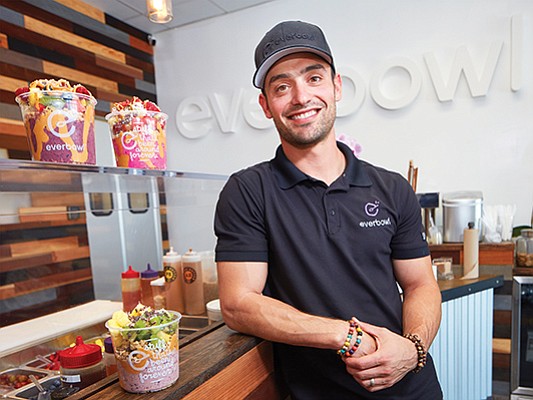 San Diego — For Everbowl founder, Jeff Fenster, who started the company in 2016 and now has 10 locations in San Diego and Riverside counties, using the word "superfoods" isn't to get consumers to believe superfoods are new to the market nor that they can cure or keep a person immune from diseases.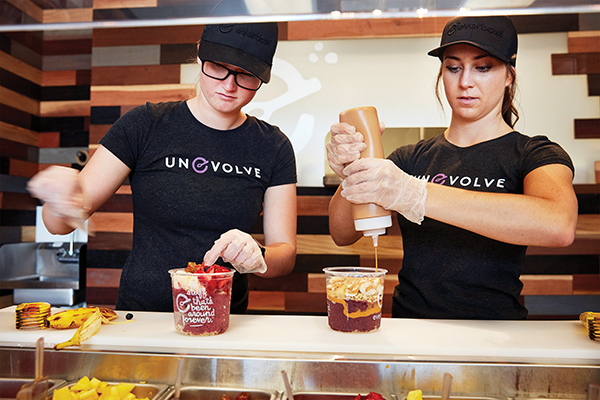 EVERBOWL
CEO: Jeff Fenster
Number of stores: 10 locations in San Diego and Riverside counties Year founded: 2016
Revenue: between $7 million and $9 million by the end of 2018, according to company
Company description: A San Diego-based chain that offers sugar-free, and organic superfoods bowls.
The company's marketing tag line is "made from stuff that's been around forever," and Fenster says it is using the phrase to encourage patrons to make better food choices and provide them with healthful food options in hopes they will adopt balanced diets lifestyles.
"I spent a lot of time figuring out why some of us don't eat right, and the four excuses I found are: it doesn't taste good, it cost too much, it doesn't fill me up and it isn't accessible," said the 35-year-old Fenster, who offers 24 ounces of sugar-free and 100 percent organic bowls with unlimited toppings for $8 at all his locations. "I wanted to solve all of those problems with Everbowl. Our goal is to open as many stores as fast as we can, everywhere, because this type of food should be accessible and available to everybody."
Revenue Projections
Fenster says he sells more than 55,000 bowls of superfoods like acai and pitaya a month and that the company, which added a kefir water product dubbed K2O in January, is projected to make between $7 million and $9 million in revenue by the end of this year. He recently opened a store in Menifee in Riverside County and has more locations opening this summer, including stores at San Diego State University and in Mission Valley.
His hope is to have 20 more signed leases by the end of the year, and eventually go nationwide.
Unlike standards for other recently popularized food labels like non-GMO, gluten free and organic, the U.S. Food and Drug Administration does not require brands to follow certain criteria to use the term "superfoods." In fact, while it has become a regularly-used buzzword in the last ten years as a descriptor of foods that are packed with high levels of nutrients like antioxidants, vitamins, and minerals, health experts say the word was created for marketing purposes and later adopted by publicists to increase consumer demand, adding that the classification has no standard definition or any true scientific basis.
Still, despite the label's lack of credibility, it isn't stopping San Diegans from buying into the booming trend, as more and more superfoods-centric businesses continue to pop up in and around South County. Part of the reason why is because Americans are becoming increasingly health conscious, joining the clean label movement thought to have been sparked by millennials, and turning away from artificial ingredients, preservatives, antibiotics and other man-made food modifiers to replace them with nutrient-rich and fresh foods.
The Numbers
As a result, superfoods like quinoa, kale, blueberries and chia seeds are growing in popularity. According to a Nielsen report, chia seeds sales increased by 14.7 percent in a 52-week period ending April 2017; kale by 9.3 percent; quinoa by 15.6 percent; and strawberries by 5.4 percent. And, while blueberries dropped by 0.7 percent, categories of foods including that ingredient went up by 30 percent.
The so-called superfoods are also growing as an add-in ingredient in nontraditional categories like vitamins and supplements and dry pasta, per Nielsen, with year over year sales increases of 541 percent for kale in pasta and 331 percent for quinoa in vitamins and supplements. According to ReportLinker.com, a market research company that finds and organizes industry data, analysts project the global superfoods market will grow at a compound annual rate of 15.7 percent from 2018-2022.
Brian Dunlap, managing partner at The Mad Beet in Pacific Beach, which sells 100 percent organic superfood smoothies and fruit bowls, says although "superfoods is a marketing ploy, people are getting smarter and more socially-aware, and they are understanding that the body will act like a fine-tuned machine depending on what you put in it. People will eat up what you feed them, and this is what they are being fed right now."
He added that the opening of more shops like his means "people are more open and receptive to eating better foods, and they care about what goes into their bodies. It's nice to see more healthier options instead of just pizza and beer and fried food spots." Currently, The Mad Beet has one location and hopes to reach $1 million in sales this year, with plans to expand in the future.
Sales Increasing
Robin Hubbard, director of marketing of Beaming Wellness' Beaming Cafes, which opened its first restaurant in 2012 and has seven locations in San Diego so far, says the annual sales for the company has grown 120 percent in the past three years. As a result of increased sales and rise in popularity, Beaming, which offers an array of 100 percent organic and plant-based superfood smoothies, food pairings and cleanses, grew from one to seven locations in a six-year period, and recently received funding from E38, a private equity firm focused in the health and wellness space, to continue to expand. Beaming plans on opening more locations in August and a couple more by early 2019.
"People are now becoming more educated, that is why there is this momentum and shift in the superfood world," said Hubbard. "People follow trends, and now they are learning that these so-called superfoods are good for you. They are learning how powerful they can be for the body."
S.D. Serious About Fitness
This isn't exactly surprising for San Diego, since it was voted the third "Most Fittest" city in the country, according to a 2015 report by the American College of Sports Medicine. San Diego had a score of 75.6 percent, highlighting areas like high percentages of fruit and vegetable consumption per day.
Sourcing of food is also of high importance for these eateries, noting that all use 100 percent organic superfoods grown in their natural habitats. Fenster says the superfoods arrive by boat as frozen pulp and are stored in the company's commissary kitchen located in Carlsbad. Acai is sourced from Brazil, pitaya comes from Nicaragua and Vietnam and the rest from South America. Beaming keeps its imports in its Vista commissary, while Beet stores its superfoods in its Pacific Beach store.
Got Cockroach Milk?
What's next in the superfoods world? Cockroach milk is making a comeback since its 2016 debut, with claims it can be the next great superfood thanks to its protein-infused crystals, which are reported to have three times the energy of the equivalent mass of normal dairy milk, according to CBS News. But, Hubbard says it will take some time for consumers to acclimate.
"There is a whole other thing coming, including adaptogenic herbs, that have very specific benefits and are heightened in power," she said, like ashwagandha, cordyceps mushrooms and licorice root. "The world isn't ready yet, but we will continue to embrace the world with where it is at right now."