Todd Nelson hired as CEO of SGI-DNA
Wednesday, July 4, 2018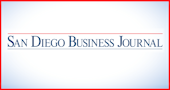 San Diego's SGI-DNA, a spinout of Synthetic Genomics, has named life sciences veteran Todd Nelson as CEO.

Nelson has led several companies including eBioscience (acquired by Affymetrix, now Thermo Fisher), MP Biomedicals (acquired by Valeant Fine Chemicals), and most recently, DiscoverX Corporation (now Eurofins). He's also the founder of Tonbo Biosciences and TCRx Corp.
SGI-DNA's suite spans synthesis, instrumentation, reagents, bioinformatrics and services for basic research, along with biomedical and industrial applications. The company in 2014 launched a DNA printer.