Quick Pitch Competition Gains Cox Business as Backer, Raises Cash Prize to $75,000
Sunday, July 1, 2018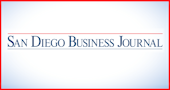 Three organizations have banded together to back the John G. Watson Quick Pitch Competition for startups slated for Oct. 24.
Tech Coast Angels hosted the Quick Pitch contest for 10 years. In 2017, the San Diego Venture Group joined TCA in putting on the competition.
This year Cox Business is adding its firepower to the event, which with the corporation's addition now boasts a $75,000 cash prize - 50 percent more prize money than last year. Cox Business is the arm of Cox Communications that sells voice, video, and data services to commercial customers.
Ten companies of those that apply will be selected as finalists and receive coaching ahead of their pitch. Three of the finalists will win a portion of the prize money based on votes cast by the audience following the pitches, on which the judges will provide immediate feedback.
Cox is supporting Quick Pitch instead of hosting a standalone contest again, which it did last year for the first time. Called Get Started San Diego, startups competed for $20,000 in cash and $5,000 in technology services.
A record total of more than 150 startups applied for a shot at participating in Quick Pitch last year.
TCA members invested more than $500,000 in the 2017 finalists, in addition to the prize money awarded at the event, according to Dean Rosenberg, president of the San Diego chapter of TCA. That included a $100,000 investment into Fantasy Sports Co. as part of its $500,000 seed round.
"Last year's new Quick Pitch partnership between SDVG and TCA proved the value of collaboration by increasing the number of applications, sponsors and prize money for companies while creating a more streamlined process," said Mike Krenn, president of SDVG. "Collectively, we all agree and coalesce around the key data - this is best for the companies and the startup ecosystem."
Startups interested in a slot in the 2018 competition have until Aug. 31 to submit an application at quickpitchsd.com.
The October competition will also include, for the first time, an award for a company selected by the judges in addition to the awards determined by the audience vote.
The organizations also plan to award a scholarship prize to a local high school student who has displayed "excellence in entrepreneurship."
Reach reporter Sarah de Crescenzo at sarahd@sdbj.com.