McCain to Supply Los Angeles With Traffic Signal Electronics
Originally published July 1, 2018 at 2:30 p.m., updated July 2, 2018 at 6:55 p.m.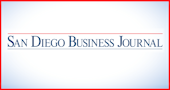 A North County company, Vista-based McCain Inc., won a contract to supply as many as 1,500 traffic signal control cabinets to the city that is practically synonymous with the automobile.
Financial terms of the five-year deal with the Los Angeles Department of Transportation were not available; a call to the city about contract terms was not immediately returned. In a statement, McCain said the equipment will be phased in over the duration of the project with the final number to be deployed based on the city's budget considerations.
McCain's cabinets house computers and sensors which control traffic-signal timing — and facilitate the safe and efficient movement of vehicles and people through intersections. The traffic signal control cabinets will replace existing equipment.
The one-year contract announced June 27 has a renewal option for four additional years. McCain said the contract represents the largest deployment of advanced transportation controller cabinets anywhere in the world to date.
McCain said its products double the capacity of previous models and are built to serve connected and autonomous vehicles.
McCain is part of SWARCO Group.