GA-ASI Plans Transatlantic Flight
Sunday, July 1, 2018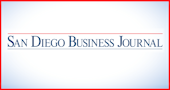 Ninety-one years after Charles Lindbergh did it, General Atomics Aeronautical Systems Inc. plans to cross the Atlantic. Only this time, the aircraft will be unmanned.
GA-ASI is billing the event as the first transatlantic flight of a MALE RPA — that is, a medium altitude, long endurance remotely piloted aircraft.
The Poway military aircraft builder said that on July 10-11, it plans to fly its company-owned MQ-9B Sky Guardian aircraft from North Dakota to the site of "the world's greatest air show" in the United Kingdom.
The show, dubbed the Royal International Air Tattoo, takes place July 13-15 at Royal Air Force Fairford in Gloucestershire. The location in southern England is about 80 miles west of London.
This year's show celebrates the 100th anniversary of the Royal Air Force.
The Royal Air Force has flown GA-ASI's MQ-9 Reaper for 11 years and is acquiring the MQ-9B Sky Guardian, which has advanced electronics and is able to fly in civilian airspace.
"GA-ASI is proud to have supported the RAF over the past decade with our MQ-9 Reaper. In honor of the RAF100 celebration, and to demonstrate a new standard in RPA flight endurance, we will fly SkyGuardian across the Atlantic," said Linden P. Blue, CEO of GA-ASI. "Given the distinguished 100 year history of the RAF, we believe that this flight is an appropriate way to celebrate the RAF's position as a leader in innovation."
GA-ASI is part of privately held General Atomics. It has facilities in Grand Forks, North Dakota along with other unmanned aircraft builders. The U.S. Air Force keeps unmanned aircraft in Grand Forks.